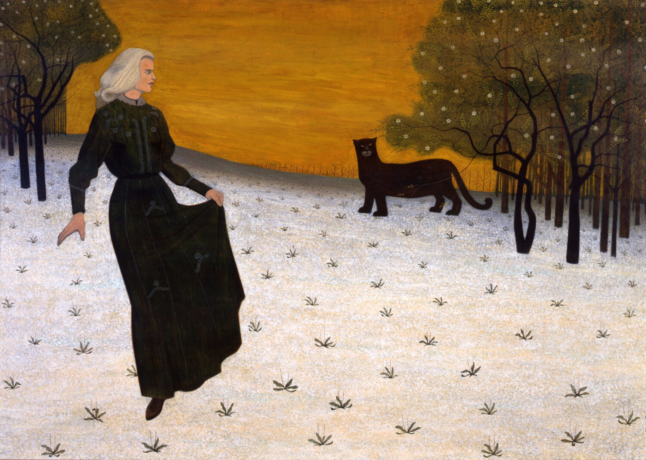 Exhibitions
SOUTHERN/MODERN: REDISCOVERING ART FROM THE FIRST HALF OF THE TWENTIETH CENTURY
Carroll Cloar, Aaron Douglas, Caroline Durieux, Will Henry Stevens, Alma Thomas
The first comprehensive survey of paintings and works on paper created in the American South from 1913 to 1955, Southern/Modern features more than one hundred works drawn from public and private collections across the country. The exhibition focuses on artists such as Carroll Cloar, Aaron Douglas, Caroline Durieux, Will Henry Stevens, Alma Thomas, and others who worked in states below the Mason-Dixon line and as far west as those bordering the Mississippi River. It also includes artists from outside the South, such as Josef Albers and Elaine de Kooning, who were instructors at North Carolina's experimental Black Mountain College, as well as Thomas Hart Benton, Elizabeth Catlett, Jacob Lawrence, and others whose works reflect on Southern experiences from a distance.
Throughout the exhibition, thematic groupings weave together the region's rich cultures, telling stories of agriculture and industry, class division and racial injustice, natural beauty, and stylistic innovation. Full of vibrant, emotionally charged works, Southern/Modern treats a subject long neglected by art historians and museums outside the region. It shows how in the South as elsewhere, modern artists linked social and aesthetic progress, hoping to change the way people saw their world.
Southern/Modern is organized by the Mint Museum in collaboration with the Georgia Museum of Art.
Image: Carroll Cloar. A Story Told by My Mother, 1955. Casein tempera on Masonite; 28 3/8 x 40 1/4 in. Memphis Brooks Museum of Art, Memphis, TN. Bequest of Mrs. C.M. Gooch, 80.3.16. © Estate of Carroll Cloar