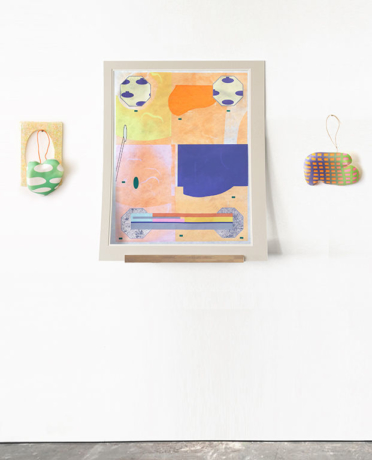 Exhibitions
SONNENZIMMER: SHAPE SONG
Sonnenzimmer
Sonnenzimmer will have a show of work in the Haley Gallery, opening Saturday! Join us for the reception, 6-9 pm!
---
Shape Song is an exhibition of new prints and objects by Chicago-based duo Sonnenzimmer, exploring the conceptual and physical thread connecting music and graphics. With this body of work, they make the claim that music and graphics derive from the same source—surfaces. All graphics are bound to a surface whether it's paper, a screen, or even projected light. Sound, though often associated with invisible waves flying through the air, is bound to surfaces too. If music can be described as the organization of sounds, does it follow that music is also the organization of surfaces? Experimenting with an array of graphic languages (line, shape, texture) screen printed on malleable plastics, Sonnenzimmer purposefully warp 2-dimensional and 3-dimensional space and imagine the sound it might make. This work is paired with an exploratory publication also titled Shape Song that further examines the topic through exercises in metaphor and logic. To round out the exhibit, Sonnenzimmer present two additional series of screen prints Vector Sculptures (2015) and Sides (2016).
Sonnenzimmer is the collective work of artists Nick Butcher and Nadine Nakanishi. Their collaborative practice was established in 2006 in Chicago, Illinois. Initially recognized for their idiosyncratic commissioned screen-printed posters, their practice has since morphed into an interdisciplinary toolshed spanning multiple platforms, including exhibitions, publishing, performance, and design. Eschewing the divisions between art and design, their practice aims for a radical reclamation of all aspects of visual expression. No matter what the medium, their work grounded in the lasting potential of the graphic arts, while exploring the physical and conceptual friction between abstraction and communication. Their work has been exhibited in the United States, China, and Europe with recent exhibitions at the Arts Club of Chicago, Vebikus Kunsthalle Schaffhausen (Switzerland), and the University of Tennessee at Chattanooga. They have been commissioned by and array of clients have lead lectures and workshops in academic settings, including visits to Yale University, California Institute for the Arts, The Art Institute of Chicago, Pratt Institute, Minneapolis College of Art and Design, and Aalto University in Helsinki.
---
Hatch Show Print's Haley Gallery displays restrikes of original posters from the collection, as well as contemporary interpretations of Hatch Show Print's classic wood blocks created by national and local artists. All of the restrikes of iconic posters, in addition to all of the new work inspired by the celebrated blocks, are available for purchase.

Open Daily: 9:30 a.m. – 6:00 p.m.