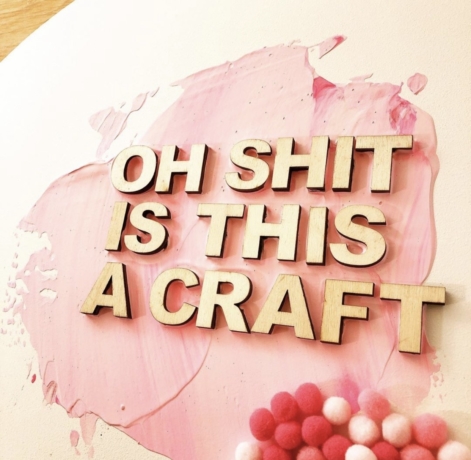 Exhibitions
DANIELLE KRYSA: SHIT ARLO SAYS
Danielle Krysa
PLEASE FOLLOW MODFELLOW'S SOCIAL MEDIA PAGES FOR VIRTUAL EVENTS. WORKS ARE AVAILABLE FOR SALE ON WEBSITE.
---
Internationally known artist Danielle Krysa will debut her newest series of mixed media collage artwork titled Shit Arlo Says. These pieces are full of bright pastel colors and as much humor and wit as she can pack into each title. If you are wondering who Arlo is, Danielle explains "Do you ever hear a little voice in your head? It questions your choices, your skills, and probably even the pants you're wearing right now (you look great, by the way). The voice I hear is named Arlo, and he's an asshole. He shouts out insults and opinions all day, with only one goal - to stop me from being creative. Shit Arlo Says is exactly that. The doubts, questions, and lies he delivers daily - from my material and palette choices, to scale and subject matter - have been used as direct inspiration for this series of mixed media collages. 'Oh shit, is this a craft?" – no Arlo, you dick, it's art.'"
Danielle is from British Columbia, Canada and has shown her work in galleries all over the world (Brooklyn, London, Los Angeles, Aspen, Vancouver, Toronto, Tasmania). She is also the author of 4 books "Creative Block", "Collage", "Your Inner Critic Is A Big Jerk" and her latest book "A Big Important Art Book – Now with Women", and the host of popular podcast Art for Your Ear and writer behind the contemporary art site, The Jealous Curator.
Curated by Pam Marlene Taylor.
Check out the exhibition during the Virtual Art Crawl hosted by The Nashville Art Gallery Association on their YouTube Channel, May 2nd at 6pm.