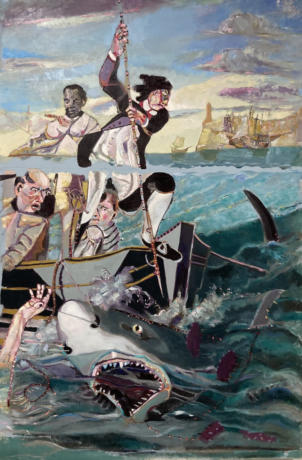 Exhibitions
SHIPMATES
Daniel Reidy, Greg Pond, César Leal
Zeitgeist presents a collaborative exhibition of painting, sculpture, video and sound work by Daniel Reidy and Greg Pond with a musical contribution from César Leal.
The title of the show, shipmates references a chapter early on in Moby Dick. A preacher is giving a sermon on his read of Jonah. He uses the term shipmates as if to say dearly beloved, or friends, or any other way for the person standing to address all those seated. I think it's nice; I think it projects a sense communal toil. He doesn't pretend to be captain, he speaks to us as fellows, all of us sailers on the same ship.
Works from this show use Moby Dick as a departure point for crafting themes in an attempt to engage with the communal toil of contemporary life.