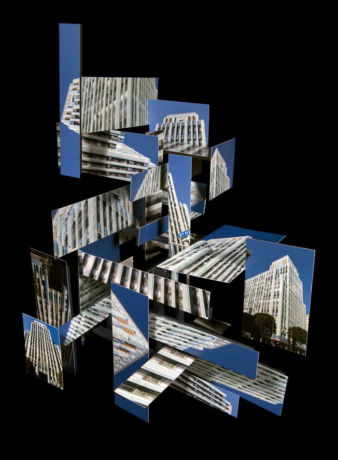 Exhibitions
SHERRY KARVER & MAX SHUSTER
Sherry Karver
Max Shuster
Cumberland Gallery presents the work of two distinct multimedia artists in separate solo shows. Max Shuster's Acid Rain and Sherry Karver's Thoughts Left Visible will open with a reception on Saturday March 11th, 2017.
For his second solo show at Cumberland Gallery, Nashville native Max Shuster presents recent work from two series: Foundations and Vintig. For the last ten years, Shuster's photographed assemblages have formally overcome the restrictions of the camera and engages viewers in a relevant critical discussion. In an ongoing series called Foundations, Shuster uses fragments from his own photographs of city buildings to fabricate new 3-D constructions. By documenting his position in time twice (taking a photograph of a photograph), Shuster emphasizes the camera's ability to capture a moment. More recently, Vintig places peculiar objects on found vintage photographs, such as sepia tone family portraits, and then photographs the resulting subject. Shuster explains, "This work stems from a playful yet bizarre attempt to manipulate the rigidity of the past." Again the artist explores how photographing an existing photographic print breaks from a linear documentation of history, "play[ing] with the temporal nature of snapped time." While many photographers begin with the camera, Shuster uses it throughout the art-making process to eventually finalize his practice in one conclusive image.
Max Shuster earned his MFA in Photography from the Maryland Institute College of Art after receiving a BFA in photography from Watkins College of Art. Currently based in California, he has shown work extensively throughout the southeast for ten years, as well as Baltimore and L.A., and has been covered in The Tennessean, The Nashville Scene, and Harper's Magazine. Public collections include Cummings Station, Edward Jones Financial Institution, and the office of Senator Bob Corker, among others. Shuster received the Maryland Institute College of Art Graduate Research Grant in 2013 and a MICA merit scholarship award in 2012.

Sherry Karver presents a body of mixed media works on panel in her first show at Cumberland Gallery. Her work reflects on human individuals experiencing life in a "sea of sameness," by combining various materials with the artist's original photographs taken in high foot-traffic areas. After capturing images in metropolitan hubs such as Paris city streets or Grand Central Station, she transfers the collaged photographs on paper and mounts them onto deep wood panels. Karver then applies oil glazes to build up color and surface, sealed with high-gloss resin, permitting a tactile confrontation with the overlaid stand-still moments. This encourages viewers to contemplate their own reflection in the paintings, becoming a part of the story themselves. Select figures wear narrative text, which is written by the artist based on appearance, motion, and body language, issuing significance to random passers-by. Photos taken in the MET, for example, place onlookers in the company of ancient sculptures, proposing a cultural shift within the visual time lapse. Sherry encapsulates in her own words, "My work embraces the contemporary non-linear view of time with its randomness, spontaneity, and chance occurrences."
Based in California, Sherry Karver has taught and painted professionally for over 35 years. She earned her MFA from the Newcomb School of Art at Tulane University and has shown in major cities including London, New York, Chicago, Santa Fe, and Los Angeles. Notable shows among her long exhibit history are The National Jewish Museum in D.C., The Morris Graves Museum of Art, Los Angeles Center for Digital Art ( curated by Peter Frank), and the Peninsula Museum of Art among many others. Corporate collections include Rockford Art Museum, Crocker Museum of Art, United Airlines, Apple, and AT&T.