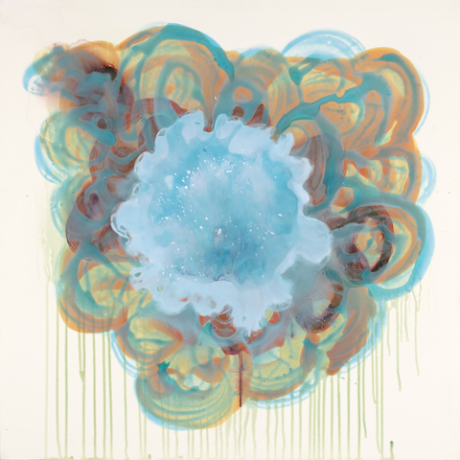 Exhibitions
SHAWN HALL: INVOLUNTARY OCCURRENCES
Shawn Hall
The Red Arrow Gallery is pleased to present Involuntary Occurrences, it's second major solo exhibition by Shawn Hall, which will open on Saturday, November 11, and continue through Monday, December 23, 2016.
Involuntary Occurrences, a new series of paintings on clay board, shows evidence of an evolved language of abstraction. Drips and minute mark making of candy like colors seep out of acrylic onto a clean white surface creating a worldly like environment for viewers to absorb. Halls new work refers the viewer into thinking a technique is concrete in its form, by tricking the eye into introducing the fact that something can be created in a multitude of ways.
"As the late Barry Commoner put it, 'everything is connected to everything else'. I am influenced by the drama of life forms and growth transformation in organisms. I view my practice as an act of participation in the natural world via intuition and action. I have reverence for the knowledge inherent in all beings. What is within and without us is teaming with drama that we are just a small part of, and sometimes only understand a small part of. To a large extent my work is a kind of homage to this fact."
Shawn Hall was born in Ann Arbor, MI, and has lived and worked in New Orleans for the past 16 years. She holds an MFA from the Maryland Institute College of Art where she was a Patricia Harris Fellow, a BFA from the School of the Art Institute of Chicago, and an AS in Science from Delta College in MI (whose underpinnings have never left her). She has been in residence at School 33 in Baltimore, in NYC through the LMCC, in Los Angeles at 18th Street Art Center, and recently at the Santa Fe Art Institute in New Mexico. Exhibitions include the Contemporary Art Center and the Ogden Museum of Southern Art in New Orleans, Wolfson Gallery at Miami Dade, FL, N.A.M.E. in Chicago, The Hewitt Gallery and Bronx River Art Center in NYC, Van Brunt Gallery in Beacon, NY, G.U.M+D Gallery in Dallas, TX, Williams Tower Gallery in Houston, TX, and Chateau de La Napoule, in Mandelieu, France. Her work has been reviewed nationally in Art Papers, New Art Examiner, and dialogue. She is a part of the permanent collection of the Ogden Museum of Southern Art in New Orleans, Linklaters Corporate collection in NYC, and numerous private collections throughout the United States and Europe.