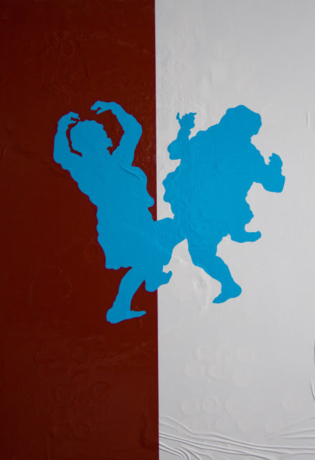 Exhibitions
LAIN YORK: SELECTIONS FROM THE NATIONAL GALLERY
Lain York
This work was initially made and presented as an attempt to sort through the media frenzy on the eve of the 2012 US presidential election. As the rhetoric about the candidates and issues was ramping up to what seemed at the time an unprecedented fury, I looked back through engraved images and drawings in popular circulation during two particular administrations of the past, John Adams and Abraham Lincoln, for comparison.
It seemed that the discussions and engagements of those periods were every bit as contentious. What had changed is the level of bombardment. Directed messaging and the stretching of facts through broadcast and social media had permeated most of our waking hours escalating attention and division.
Another realization, further reinforced by the election of the first African American president of the United States in 2012 and current events, has been the fact that even after this momentous occasion very little progress has been made to ensure equal rights to citizens of color, of more diverse cultural backgrounds, sexual orientation, gender identity, and economic status.
Currently, the awareness of inequality is obviously not new to those experiencing discrimination daily but has come to a greater, sleeping white majority. The situation we all find ourselves in as Americans in this year of 2020 and the decisions we are making in this pivotal period will prove a watershed moment in so many regards.
As the events of past several years have further divided our country as to what our shared values truly are, the idea of an official "national archive" serving as the custodian of collective values and beliefs is proving anything but objective. Most recently the bending of these narratives, to my mind, makes this more evident and disturbing.
The pieces in this show consist of painted and routed wood panels covered with a skin of colorful adhesive vinyl. The worked surfaces convey a sense of history that has been covered up or perhaps set in motion by the thin veneer of this commercial material often associated with automotive and sign graphics. Images taken from popular engravings of the eighteenth and nineteenth illustrate events of those times that mirror current political events and stumbling blocks that continue to hamper our development as a united nation.
New pieces have been added to the original body of work that was shown at the Frist Museum in 2013 as an effort to acknowledge the truths that so many of us as Americans have failed to reckon with. The historical situations portrayed and memorialized by the characters in the earlier work took place without the participation of or thought of consequence to individuals brought to our country against their will, held in slavery, denied the protection of common law and our constitution, excluded socially, and were given no voting or civil rights. The empty panels are devices meant to remind us all of those who have acted and spoken but were and continue to be shut out.
These realizations also come on the centenary of the 19th Amendment underscoring the recognition that so much more must be done for the struggling, the unheard, and the underserved.
My hope is that these dark monuments and pauses in the reading of the other works provide for myself and others an opportunity for reflection, for learning, and a new dedication to living up to our collective identity as expressed and to better ensure that the ideals our country was founded on are finally shared by all.
-Lain York
Gallery is open by appointment only.