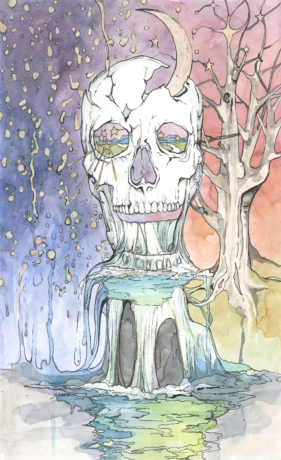 Exhibitions
SARAH SHEARER: A COLOR DARKER THAN BLACK
Sarah Shearer
The Browsing Room Gallery at the Downtown Presbyterian Church is pleased to present A Color Darker Than Black by DPC resident-artist artist Sarah Shearer.
Exhibit title:

Sarah Shearer: A Color Darker Than Black
Exhibit Dates:

April 7 – May 24, 2018
Opening Reception:
Saturday, April 7, 6 – 9 pm in coordination with the downtown art crawl and 5th Avenue of the Arts.
Artist's Statement:
Black is the darkest color resulting from the absence or complete absorption of light. With this body of work, Shearer explores her experience with depression, trauma and loss while searching for peace and freedom. The idea of a color darker than black exemplifies the weight of mental health struggles. In her new work, the preservation of negative space and incorporation of a lighter palette tells the story of where the artist is currently at: very consciously pushing back against the absorption of internal light. Using a combination of water-based media on paper, representational, yet dream-like images are Shearer's storytelling vehicle. These images are rooted in personal memories and dreams, a compelling contrast of loveliness and darkness. This narrative is how she describes her understanding of peace. That a willingness to accept — rather than avoid — the frightening, fearful parts of life cultivates the possibility of a more beautiful future.
About the artist:

Sarah Shearer received a Bachelor of Fine Arts in Painting from Belhaven College in Jackson Mississippi. Immediately following, she relocated to Nashville, Tennessee. Shearer has exhibited her work locally, in both solo and group exhibitions. She has been a resident artist in the Downtown Presbyterian Church studios since 2009. Shearer works primarily as a painter, but periodically challenges her creative practice by working in a range of other mediums such as print making, ink/ graphite on paper, mixed media, and textiles.
https://www.sarahshearerart.com

---
Image: Sarah Shearer, Leo and the new Spring, 2018, 11 x 17 inches, Watercolor and ink on paper