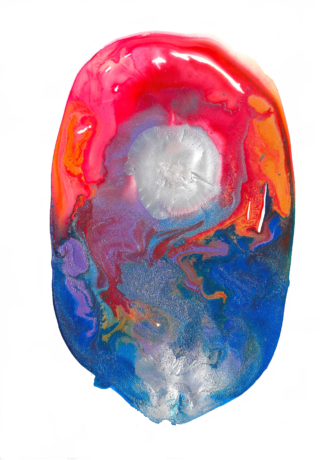 Exhibitions
SARAH HART LANDOLT: FEELING HEART
Sarah Hart Landolt
Artist's statement:
Beginning as my Father's idea to recreate my niece's feelings chart from Daystar Ministries, Feeling Heart evolved into a research passion project, where I curiously sought to visualize and externalize our inner landscapes. Gathering data responses on social media for each emotion (associated colors & shapes, where an emotion is felt in the body), I investigated where there was consensus in how we experience an emotion and painted multiple paintings based on the data for an emotion. After engaging the public to narrow down and vote on the best painting via a poll on Instagram Stories, the winner made it into the chart to officially represent said emotion. In sum, Feeling Heart is a Rorschach-esque research/ art project that invites us to feel the truth of our heart via colorful art: to visualize those fluid, ever changing worlds in our body that are not accessible through the left-brain narrative alone. Even though only 16 paintings are included in the final Feeling Heart chart, all of the 200 + paintings made for this project will be exhibited along with an opportunity to interact with the art.
About the artist:
Sarah Hart Landolt is an abstract, fluid ink artist, specializing in painting emotions and incorporating data gathered via social media about how people experience those emotions. A former French instructor, she is also a Francophile, obsessed with French literature, language and Paris. A Nashville native who recently moved back to the city, Sarah is a current artist in residence above Downtown Presbyterian Church.
Website: https://www.sarahhartlandolt.c...