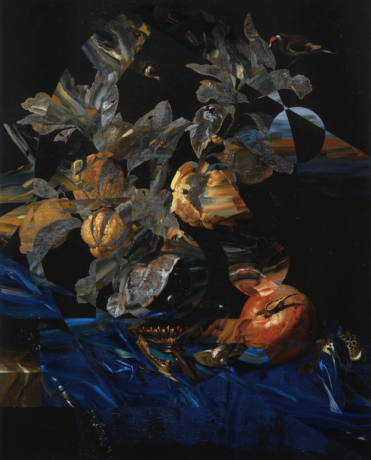 Exhibitions
TIFFANY CALVERT AND JOSH AZZARELLA: S\AMPLE DATA
Tiffany Calvert, Josh Azzarella
We are happy to say that as restrictions are beginning to loosen in Nashville, we are back to accepting in person meetings and appointments. If you are interested in seeing the works currently up at the gallery, works in our inventory, or discussing your individual art needs, please feel free to email us. We are hoping to resume our regular hours very soon!
---
Tiffany Calvert systematically applies oil paint to large-scale, digital prints of Dutch still life paintings to create visual interruptions, pixelations, and glitches that recontextualize the works and place them in dialogue with an evolving, postmodern notion of perspective. The works here embody a dissonance. Calvert's paintings are mimetic of low-res, Google search reproductions, pushed to the margins in an economy of images valued for fidelity to the original. Calvert flips this hierarchy on its head by elevating the transient, the modified, the damaged, the reproduced and remixed. And while each piece recalls the chaos of the screen, Calvert also manages an almost meditative quiet, clear to the viewer in engaging with each piece. In the embrace of history, chaos, and abstraction comes repose.
Josh Arazella interrogates the processes by which images affect collective memory through video and other mixed media formats. Azzarella deconstructs this system of images—created and sustained by mass-media and the entertainment industry—by digital manipulation and computer programming. His work manages to maintain a playful posture, while delving into the complexities of memory, history, and representation. Azzarella arbitrates the relations between the signifier and the signified, the real thing and the representation (or re-presentation), by pointing reflexively to the arbitrary nature of media materials and of language itself. Moreover, the work serves as a monument to a watershed moment in film history. Azzarella preserves the same sense of intrigue of the original by virtue of technical genius—the programming magic performed behind the curtain yields an altogether new and lively series of artifacts; a museum of our contemporary mythology.
---
Check out the exhibition via the Virtual Art Crawl hosted by the Nashville Gallery Association on their YouTube Channel.