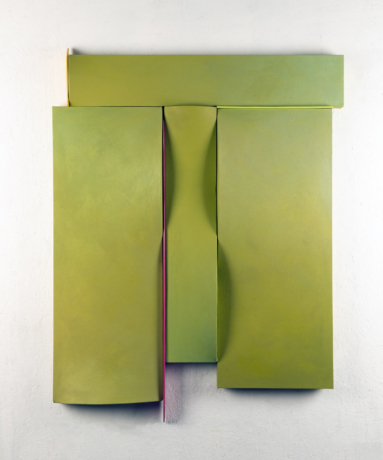 Exhibitions
ROBERT RECTOR: NEW HORIZONS
Robert Rector
Robert Rector kicks off fall at David Lusk Gallery Nashville with NEW HORIZONS. Over the course of his five decade painting career, Rector has explored the relationship between the natural environment and human experience.
In NEW HORIZONS, his monochromatic sculpted canvases first seen in DREAM MACHINES in 2021 expand to include more dimensional color palettes and curving lines. Of his paintings Rector says, "Through the use of color, textures, and shapes the viewer becomes aware that the piece is as much a sculptural object while the elements of painting in the traditional sense are still evident."
Capturing the tones, textures, and rhythms of his surroundings in his paintings' sensuous surfaces, he saturates the canvas with prismatic color. Rector's paintings take on a landscape-like quality, calling to mind taupe and lavender mountains in New Mexico, lush green rolling hills in Tennessee, and murky blue marshes of the Delta. Layers converge to give a sense of these serene atmospheres.
In a catalog essay celebrating Rector's 45 years of painting in 2019, Fredric Koeppel wrote, "A constant motif, though, is Rector's deepening concern for the meditative value of abstraction and his ability to convey the sense of inevitability necessary for viewers to accept the notion of non-representation."
Robert Rector received his BFA and MFA from Louisiana State University. He has shown in solo and group exhibitions across the United States, including a recent retrospective at the Shaw Center for the Arts in Baton Rouge, LA. He lives and maintains a studio outside of Baton Rouge.