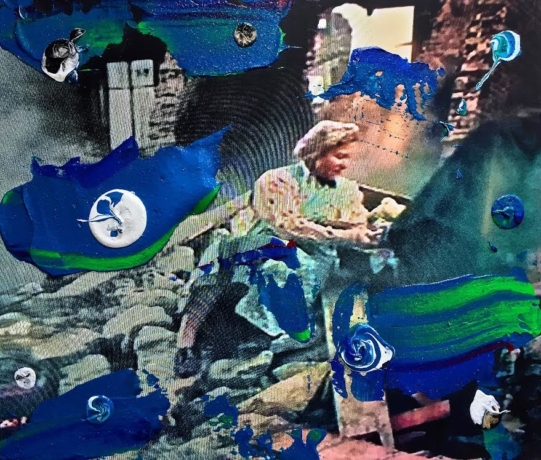 Exhibitions
RICHARD HEINSOHN: TIME FRAMES - CRITICAL CONDITIONS
Richard Heinsohn
Richard Heinsohn is a self-proclaimed part-surrealist, part-expressionist, and part-conceptualist. His body of work, Time Frames, introduced us to his evolving process of photographing a moving frame from noir film that acts as his canvas. Critical Conditions, a part of the Time Frames series, is a deeper exploration into these timeless moments of panic, fear, and crisis inspired by the present day political climate. By photographing the classic scenes on his television, Heinsohn is able to capture reflections of his own present day life, presenting a collision of images that transcend time and space. These moments become the backgrounds of his Rauschenbergian-style paintings, contrasting the dark scenes with pops of aggressive and forceful color.

"…these images depict moments of crisis. Times such as these permeate our long term memory more vividly than other, less notable events, and therefore become defining markers in our personal and collective perceptions of time's passing."

Richard Heinsohn (b. East Tennessee) holds a B.F.A. in painting and drawing from The University of Georgia. He has shown repeatedly in group shows at Allan Stone Gallery, most notable of which was the Summer Group Show of 1995 where he was included along with Willem de Kooning, Franz Kline, Eva Hess, Richard Estes, Robert Ryman and other notable artists. Richard currently lives and works in Nashville TN. In 2007 he received the "Critic's Pick" from The Nashville Scene for his solo exhibit at Estel Gallery in Nashville. He was featured in The Tennessean for this exhibit.

The exhibition Critical Conditions will be on view at ESPS April 1st, 2017 – May 6th, 2017. A reception for the artist will be held Saturday, April 1st from 6-9 pm in conjunction with the Wedgewood-Houston Art Crawl.