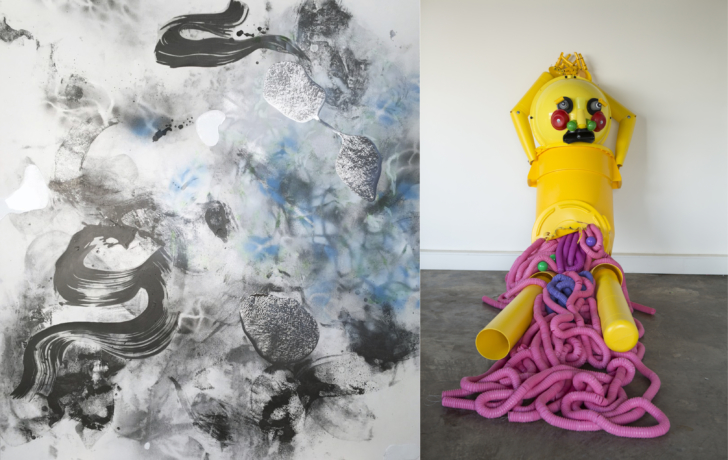 Exhibitions
​RICHARD FEASTER & ALEX LOCKWOOD
Richard Feaster, Alex Lockwood
Richard Feaster: Psych Pastorale
Richard Feaster's Pastorales begin outdoors, where he pours solvent onto canvas and sprays metallic silver paint into the flowing pools of liquid, freezing them in time. In the studio, the canvases are developed further with additional spills, drips and pools of paint collaged onto the surface. Working in the open beneath trees, bright sunlight, shadows and wind become participants in the making of these works, contributing to a sense of mystery and chance as the paint is applied.
Painting titles are taken from pop songs of the psychedelic era, a musical period noted for its introspection and mystery, and which mirrors the artist's interest in nostalgia, impermanence and reflection on place and time.
Richard Feaster was born in Hagerstown, MD, and attended Birmingham Southern College (BFA), Tulane University (MFA) and the Skowhegan School of Painting and Sculpture. His work has been exhibited internationally and is included in many private and corporate collections. In 2016, he was nominated for a Joan Mitchell Foundation Painters and Sculptors Grant. He lives and works in Nashville, TN.
---
Alex Lockwood: Awful Things
Alex Lockwood makes abstract sculpture from colorful material, often repurposed or recycled. He builds with one primary component which is repeated many times to create patterns and structures. His material is often recognizable (bottle caps, shotgun shells, bread tabs and lottery tickets) though not always immediately. A familiar object seen in unfamiliar numbers can be alien at first glance, and Lockwood finds power and beauty in presenting commonplace material on an uncommon scale.
After a horrendous incident in his life, Alex Lockwood turned to horror movies. "I had always thought horror movies merely exploited our fears. But what I discovered was an acknowledgment of the real world: people die, many tragically, most unexpectedly and, often, terribly. I also found a beautiful art form that I needed to dive into."
The work in this show depicts bad death. Much of it comes from the recorded history of human torture from 530 AD to the present day. It also comes from Lockwood's imagination - which is flooded with horror movies.
Lockwood will be giving a talk on his work at the gallery on February 11 at 1:00pm.
Alex Lockwood is a self-taught artist from Seattle, WA. He lives in Nashville with his wife and their two sons.
Image credit: (L) Richard Feaster, Lily in the Pink, 2016, mixed media on canvas, 42" x 38"; (R) Alex Lockwood, 2016