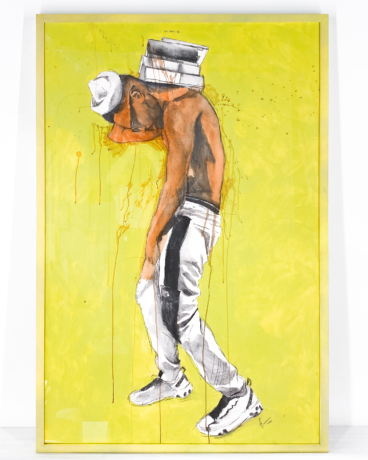 Exhibitions
RENNAISSANCE: THE CONTEMPORARY EXPRESSION OF THE ANCESTRAL SPIRIT
Anthony Suber
Fahamu Pecou
Richard "Spec" Ndimande
Lovie Olivia
Wesley Clark
Augustin Drake Adalma
This exhibition engages ancestral lineage through contemporary art expression. It deals temporally with Harlem in the 1920s and how it's creative spirit pervades through our present moment. By conjuring the spatial identity of what Harlem was- a dense space of synergetic, synthesis, complexity, and development for Black creatives- this exhibition decentralizes Harlem as a place and repositions it as a network of spiritual kinship that lives on through its impact across the global African diaspora. The exhibition invites artists to explore their ancestral lineage while also expressing strong kinship to the artists that once were by continuing in their practices.
It is no secret that the rapid cultural and social transformations that accompanied the digital age have widened the generational gap between millennials and their ancestral predecessors. This gap has resulted in a sort of cultural amnesia, where artistic processes and the societal conditions they reflect seem wholly new.
On the contrary, many of the cultural questions arising now were present at the turn of the last century: What does it mean to come of age? How do people hold space in an ever-changing world? These questions are the cultural inheritance of the modern Black artist, willed to us through ancestral energy that, like all energy, cannot be created nor destroyed, only transformed and shifted.
No cultural movement embodies this transfer of artistic energy quite like the Harlem Renaissance, whose resonance is seen today in the reemergence of widespread Black creative collaboration across the globe. The Harlem Renaissance did not only mark an artistic revolution but a sociological one, which transformed the way we gather to create, exchange, and experience art.