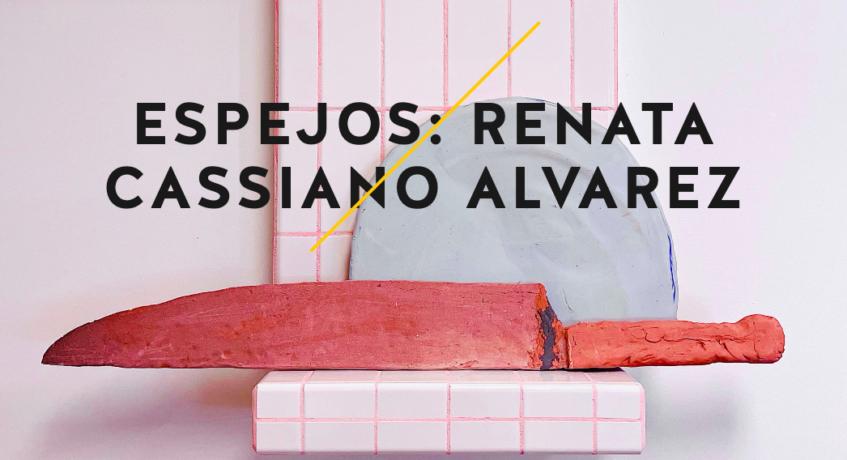 Exhibitions
RENATA CASSIANO ALVAREZ: ESPEJOS
Renata Cassiano Alvarez
COOP Gallery is pleased to present Espejos, featuring work by Renata Cassiano Alvarez, the winner of COOP's Open Call. Espejos follows Cassiano Alvarez's obsession with material and color language, physicality and reflections, in this case mirrors, especially the ones attached to Tezcatlipoca, the Mexican god of transformation and change.
Espejos comprises a series of glaze and obsidian mirrors inspired by the original Smoking Mirror dedicated to Tezcatlipoca, together with a group of oversized clay and obsidian knives and artifacts. Resting on tiled structures, these objects speak of a connection with architectural details from Cassiano Alvarez's home in México and the tile as another flat plane that functions as reflection.
About the Artist
Renata Cassiano Alvarez is a Mexican-Italian artist born in Mexico City and is currently the Visiting Assistant Professor of Art at the University of Arkansas School of Art. Cassiano Alvarez's artistic practice is based on a constant search for developing an intimate collaborative relationship with material and material language. Influenced by archeology and history, she is interested in the power of the object as survival - objects with a sense of permanence and timelessness, and language as transformation. Her work has been exhibited internationally. She works between her studio in Veracruz, Mexico and Fayetteville, Arkansas. To learn more about Renata Cassiano Alvarez's work, visit www.renatacassiano.com or on Instagram @renatacassiano.