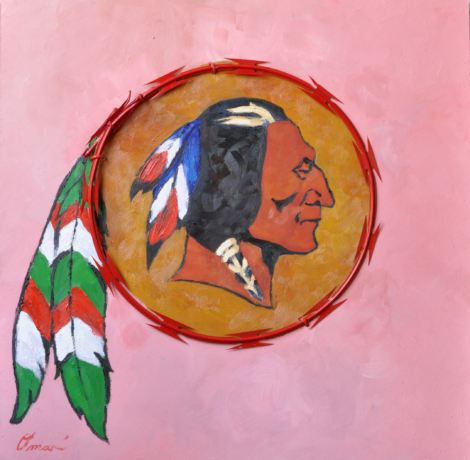 Exhibitions
OMARI BOOKER: RED LINE
Omari Booker
Channel to Channel is proud to present Nashville based artist Omari Booker in his solo show Red Line. Show opens Saturday November 2 from 5-9pm and will be open through December 14.
Booker's new series of work is centered around the discriminatory housing practice of "redlining." The name refers to the federal government's creation of color coded maps from the 1930s seeking to expand homeownership in America's metropolitan areas. The maps delineated areas preferred for investment based on racial and ethnic populations. Those deemed suitable for investment were outlined in blue or green while areas less desirable or considered hazardous were outlined in red.
The new collection of paintings by Booker explores this history both physically and metaphorically through the use of red razor wire, figures, and color. Of the series, the artist stated: "As [it] progressed, I investigated how division based on race has affected nearly every aspect of society in the United States."
Booker's work has been exhibited throughout Nashville including the Frist Art Museum, Fisk University, Vanderbilt University, and Tennessee State University, among others. He has completed several murals across the city and is a founder of North Nashville's Jefferson Street Art Crawl.