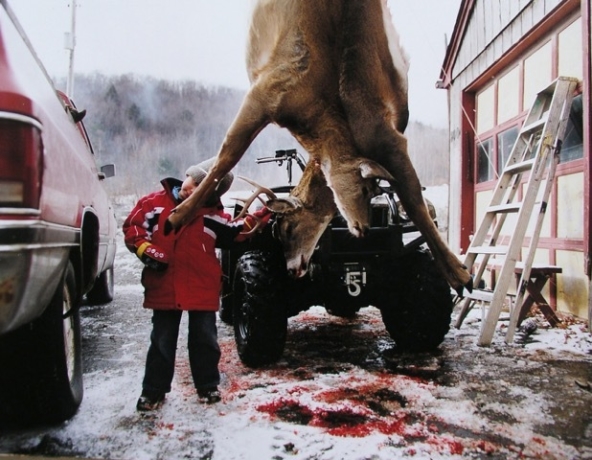 Exhibitions
TRACEY BARAN: RED
Tracey Baran
Red presents the work of Tracey Baran, a young photographer who produced a visual diary composed of both spontaneously recorded moments and posed depictions. Baran's stunning photographs were produced in just over ten years - in 2008 she fell ill and died suddenly from a traumatic brain injury at the age of thirty-three.
The critic Barry Schwabsky, upon first seeing her work almost twenty years ago, recalled her photographs as "a rare combination of empathy and frankness … emotionally raw and formally self-possessed. I wondered how someone so young could look at things so knowingly." Vince Aletti wrote in The New Yorker that "Baran telegraphs the fraught nuances of relationships – with her father, a female friend, or a lover who's no more than a hand cupping her face on a couch – so efficiently that her pictures feel like epigrams, terse and telling."
Her first solo exhibition took place at the Liebman Magnan Gallery in New York in the spring of 1998, just months before the emergence of such other noted young women photographers as Justine Kurland, Katy Grannan, Malerie Marder, and Nikki S. Lee. She had six additional one-person shows, including a 2002 exhibition at the Museum of Contemporary Photography in Chicago, and participated in more than thirty group shows at galleries and museums worldwide including, among others, the Guggenheim Museum in New York and Bilbao; the Folkwang Museum, Essen; MoMA PS1; the Milwaukee Art Museum; the Los Angeles County Museum of Art; and the Pusan Metropolitan Art Museum, Korea.