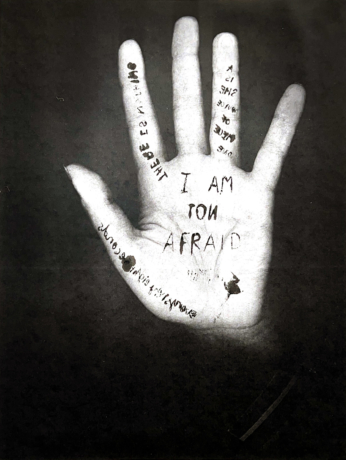 Exhibitions
FRANCES LAVEY: REASON ASSAULT
Frances Lavey
Hands
Inspired by Shirin Neshat's work of writing language over hands and feet, this work showcases language regard- ing femininity, sexuality, and sexual assault from a variety of sources. The literary sources include works by Carmen Maria Machado, Chanel Miller, and Bell Hooks, and those factual sources include statistics from RAINN regarding sexual assault on college campuses.
As Vanderbilt students and members of the community, we have received thirteen emails regarding the reporting of sexual assault since the beginning of the 2021-2022 school year. In these emails, eleven of the victims have been women and two have been men. These thirteen hands reflect the persons in these emails with eleven of them being from women and two from men.
The process of this work was scanning hands on the copier, the left hands of women and right hands of men. Next, I mounted on white paper and outlined the hand on tracing paper. Then using ink on the tracing paper, I wrote the text inside the hand and then flipped the paper and im- printed onto the picture.
Text Sources: Carmen Maria Machado's Essays (A Girl's Guide to Sexual Purity and NYT: The Anxiety that Binds), Chanel Miller (Know My Name), Bell Hook's (Communion: The Search for Female Love), and RAINN Data regarding Sexual Assault
Image Source: Classmates and Art Students Hands
Zines
The process of this work was first compiling the text, images, and background. First, the text was cut out word by word and rearranged randomly into 12 lines by dropping the cut up words in the table upside down. Next, I rolled the die to the order and orientation of the images and backgrounds with various outcomes having various meanings. I put all the text, image, and backgrounds together and then scanned the pages to make the zine. Finally, I sewed the zine together with string and before you is the finished product.
Text Source: Vanderbilt University Sexual Assault Security Notice (included in Public Safety Emails) Image Source: Images of Vanderbilt Buildings Background Source: Vanderbilt University Maps and Campus Plans