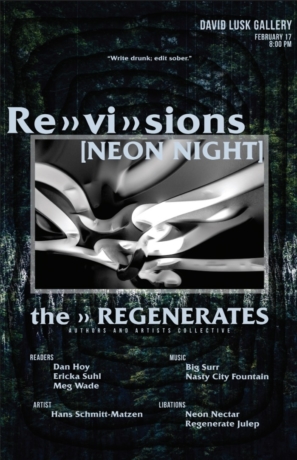 Exhibitions
RE•VI•SIONS: "WRITE DRUNK; EDIT SOBER." READING SERIES
Hans Schmitt-Matzen
The Regenerates' Reading Series is coming back to you, this time at David Lusk Gallery! The night will have music, libations, liberations, and quotations. Come and listen to music, stories, and melodies.
Readers:
Dan Hoy
Ericka Suhl
Meg Wade
Artist:
Hans Schmitt-Matzen
Music:
Big Surr
Austin Dowell appearing as Nasty City Fountain
Emcee:
Aaron Joel
---
Hans Schmitt-Matzen's show, THE EMBODIED LINE, features neon wall sculptures and painted digital photographs on panel that explore the various meanings residing in human made marks.