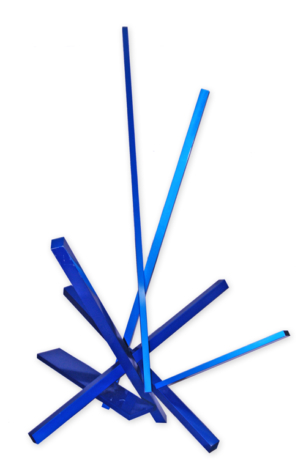 Exhibitions
RAPHAËLLE GOETHALS & JOHN HENRY
Raphaëlle Goethals
John Henry
In her second show at Cumberland Gallery, Raphaëlle Goethals presents a recent series of signature large scale encaustic paintings. Born in Brussels, Goethals enjoyed her initial formal education in Belgium, moved to the United States in 1981, and currently resides in New Mexico. These geographical locations and their rich history of painting can be felt in Goethals work: the glazed layers of early devotional Flemish painting, the light and glowing colors of the desert landscape in the Southwest and the influence of American artists such as Clifford Still, Richard Serra and Brice Marden. Goethals' signature medium for almost twenty years is encaustic: an ancient medium that combines ground pigments, heated beeswax and resin. The malleability and translucency of the wax component allows the artist to brush, scrape, and reapply material, registering a visual memory of the art-making process. This notion of memory is conceptually central to Goethals's work: "I believe we have in our cellular memory an inner awareness of a universal language. And our artistic mind is made up of a mosaic of thoughts and images collected over the years, which can then be forgotten or put aside to reach the emptiness from which new work can manifest itself." Moving simultaneously in opposite directions, Goethals encaustics are the ultimate blurring of boundaries. On the one hand, her artwork is about integrating memory, accumulating material, mark making and history, allowing persona, expression and complexity. On the other hand, the artist distills radically, erases anything referential, and moves towards simplicity, a universal minimalism, a point zero. Goethals' paintings are the visualization of an existential gray zone, a place of uncertainty, vulnerability and contemplation. The artist transports the viewer to this holistic in-between-stage by reformulating the constituents of painting as similar quintessential dualities: flat surface versus deep space, precision versus ambiguity, material versus ethereal, the grid-like composition of brightly colored dots versus animated, formative fields of homochromatic hues. As such, Goethals' art shows the viewer how the self-reflection of painting mirrors a spiritual turn inwards.
Goethals received a Bachelor of Fine Art from the Atelier 75 in Brussels in 1980 and came to Los Angeles in 1981 to further her education at the Otis Art Institute. Having exhibited throughout the United States, Goethals recently presented a solo exhibition at the Morris Graves Museum in Eureka, CA. Alongside numerous private and corporate collections; her work is included in the public collections of the Museum of Contemporary Art in Scottsdale (AZ), the Museum for Fine Arts in Santa Fe (NM) and the Boise Art Museum (ID).
Tennessee-based sculptor John Henry returns to Cumberland Gallery with a second solo show, presenting four structures in various sizes. Henry received international recognition for his monumental public sculptures and a formal language marked by the reinterpretation of Constructivism. The development of his artistic vocabulary started in the innovative climate of 1960s Chicago. Studying at the Art Institute, Henry became part of a revolutionary group of sculptors who were influenced by the Constructivist movement, introducing technology and engineering in the artistic realm and celebrating art for the public cause. Likewise, Bauhaus architecture, with its orderly and sensible design, was heavily influenced by this avant-garde movement and became apparent in the Chicago cityscape. This was the environment in which John Henry became a sculptor. He went on to intelligently combine the new aesthetic with characteristic American ideas. Henry's chosen medium is steel, a material at the center of the American economy which allowed him to create solid architectonic constructions based on the principles of structure, balance and equilibrium. Secondly, the 1960s and 1970s push for contemporary sculpture in the public space combined with a 'think big' attitude and awe for the expansiveness of space, resulted in monumental art. During his long career, Henry created some of the largest sculptures in the world. Additionally, Henry, who was initially trained as a painter, introduced bold primary colors to create contrast with the natural/built environment and incorporated the dynamic motion and personal statement of abstract expressionism. His structures of balancing beams and slabs of steel, held together by unnoticeable bolts, investigate the spatial relationship of forms and are often described as 'defying gravity' and 'simultaneously explosive and implosive'. To conclude with the words of Stephen Luecking: "With strength of color and uniqueness of engineering, he has loosened the logic of Constructivism and commingled it with the heroic and celebratory character of American formalism".
John Henry attended the University of Kentucky, University of Chicago and the Art Institute of Chicago, where he earned his BFA and received a Ford Foundation grant, and the Edward L. Ryerson Fellowship. Additionally, he received an Honorary Doctor of Arts from the University of Kentucky in 1996. His large scale sculptures can be viewed in public in many American, European and Asian cities and museum collections include the Museum of Contemporary Art Chicago, the British Museum in London and the Smithsonian Institution. Henry has lectured extensively on the role of art in public places and has been a board member, advisor and curator on this topic. In 2015, he founded Sculpture Fields at Montague Park in Chattanooga with a mission to 'establish programming, benefiting the local, regional arts establishment as well as the education community at all levels and the citizenry at large'.