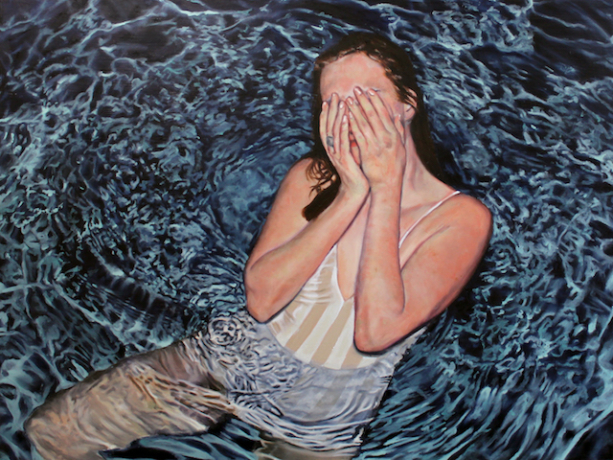 Exhibitions
RACHEL ANN WAKEFIELD: SOUTHERN IMMERSIONS
Rachel Ann Wakefield
Red Arrow Gallery is pleased to announce a new exhibition, Southern Immersions, a solo show with Rachel Ann Wakefield. Southern Immersions opens on June 3rd, 2017 at East Side Project Space (ESPS), Red Arrow's satellite location at The Packing Plant in vibrant Wedgewood/Houston.
Emerging artist Rachel Ann Wakefield (Florence, Alabama) is diving head first into the Nashville art scene with Southern Immersions, a body of work exploring water through the medium of a pool. Wakefield's liquid realism is painted in oil, often reflecting on the waterline and the moment before or immediate following the subject's immersion. On the heels of a solo exhibition at the Gadsden Museum of Art, Rachel uses her life experiences in southern culture to depict real emotions and experiences.
"One thing that you learn in the South is that being in water is good for the soul. It's something that we are born into this world of, and gravitate towards when we need peace." – Wakefield, 2017
Rachel Ann Wakefield received a BFA in painting and sculpture from the University of Alabama in 2014 and opened a painting studio and show space in 2015 in her hometown of Florence, Alabama. Her work has been exhibited locally and nationally in both group and solo exhibitions, and she is the recipient of multiple national awards. This is her first time showing in Nashville and with Red Arrow Gallery.
The exhibition Southern Immersions, will be on view at East Side Project Space (ESPS) June 3rd, 2017 – July 2nd, 2017. A reception for the artist will be held Saturday, June 3rd from 6-9 pm in conjunction with Arts & Music in Wedgewood/Houston. Red Arrow Gallery @ East Side Project Space is located at The Packing Plant, 507 Hagan St, Nashville, TN 37203. The gallery hours are Tuesday through Thursday, 2-6 PM and Saturday, 11:00-3:00. For more information, please contact Red Arrow Gallery info@theredarrowgallery.com or 615.236.6575.