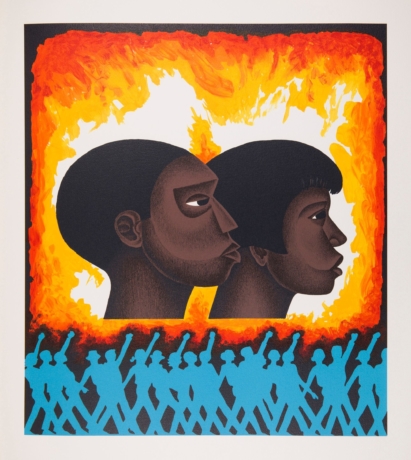 Exhibitions
PRESSED FOR TIME: FIVE CENTURIES OF PRINTS FROM THE JACK MAY COLLECTION
Alrecht Dürer, Rembrandt, Francisco Goya, Honoré Daumier, James Abbott McNeill Whistler, Henri Matisse, Henri de Toulouse-Lautrec, Mary Cassatt, Pablo Picasso, and Edward Hopper, Elizabeth Catlett, Hale Woodruff
The Vanderbilt University Fine Arts Gallery is pleased to present Pressed for Time: Five Centuries of Prints from the Jack May Collection. Curated by Vanderbilt students in conjunction with the Immersion Program and a class on History of Prints, this exhibition of over sixty works by forty-nine artists draws on the private collection of Nashville collector Jack May to explore the diverse and fascinating history of printmaking.
Jack May's interest in prints originated in 1951, when he took the class "Prints" during his final semester at Yale College. The class was so inspiring that it turned out to be a course that never ended. Over the next seventy years, the Jack May Collection has evolved into an impressive anthology of the history of prints. With works by artists such as Dürer, Rembrandt, Goya, Daumier, Whistler, Matisse, Toulouse-Lautrec, Cassatt, Picasso, and Hopper, the collection is as varied as it is extensive. Two works in this exhibition, by Elizabeth Catlett and Hale Woodruff, were recently purchased with the Joseph L. May History of Print Fund, an endowment for print acquisitions at Vanderbilt University.
Pressed for Time is curated by Cainie Brown, Chloe Davis, Peter Stidman, Sarah Treadway, and Professor David H. Price, with assistance from students in HART 2775, History of Prints: Harrison Denman, Christopher Elliott, Sophia Moak, Courtney Rehkamp, Daniel Rodriguez, Won Jun Seok, and Margaret Sturm.
Jack May made his collection available for the curators, who met weekly with Prof. David Price throughout the summer and fall of 2020 to produce this exhibition. Organized in six thematic sections—A History of Art, People, Places, Society, Painters and the Print, and Comic Ink—Pressed for Time documents the extraordinary breadth of the Jack May Collection as well as a special affinity for social critique, satire, and humor.