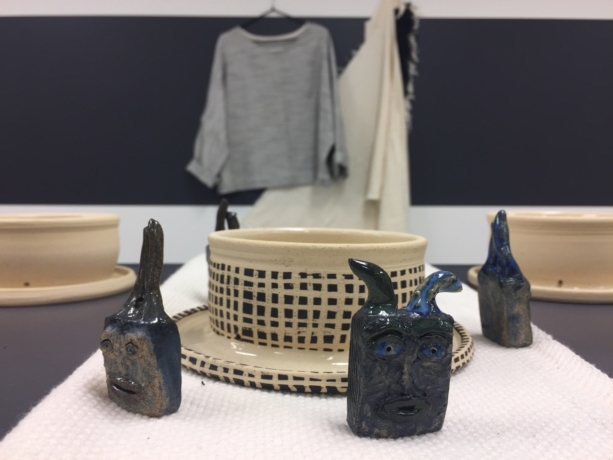 Exhibitions
POTENTIAL OF CLAY: COLLABORATION
Old School Farm Pottery
Jamie + the Jones
CONVERGE is pleased to present Potential of Clay: Collaboration, a project by the non-profit program, Old School Farm Pottery, and local fashion design duo, Jamie + the Jones. CONVERGE is hosting a special artist reception with Julia Whitney Brown (OSFP), Jamie Frazier, and Hannah Jones (J+J), on Saturday, November 3 at 4:30 pm, with a discussion starting at 5:00 pm, at CONVERGE, located on the second floor of the SNAP (South Nashville Action People) Building at 1224 Martin Street. The Opening Reception immediately follows, from 6:00 to 9:00 pm. This event is held in conjunction with Arts & Music at Wedgewood-Houston, and is free and open to the public.
Old School Farm Pottery Studio is a new member of the local nonprofit, Old School Farm. The Studio's mission is to create meaningful employment for adults with developmental and intellectual disabilities by crafting high-quality dinnerware, and to offer related educational programs and community outreach. CONVERGE showcased OSFP's work this past May and June in the first installment of Potential of Clay.
For their collaborative project, CONVERGE paired Old School Farm Pottery with the fashion design team, Jamie Frazier and Hannah Jones, owners of Jamie + the Jones. J+J creates simple, wearable art for living. They embrace the concept of collaboration, and modernize traditional textile techniques such as fabric marbling and dyeing. The textile manipulation of each garment leads to distinctive, one-of-a-kind pieces that pair with textured and structured basics.
In Potential of Clay: Collaboration, OSFP drew inspiration from textures, patterns, and colors in J+J's natural fabrics to create a special selection of handmade planters and ramekins, accented by OSFP Studio Assistant Jo Mechan's spirited Chibi Oni figurines. CONVERGE will display the collection of collaboration pieces, along with inspirational materials, project samples, and a look into the collaborative process.
CONVERGE will host a Closing Reception for Potential of Clay: Collaboration on Saturday, December 1, from 6:00 to 9:00 pm, and the show will continue to be on view through December 14. To schedule an appointment, please contact Alysha at Alysha.CONVERGE@gmail.com.
Initiated by the husband and wife team, architectural designer, Eric Malo, and artist, poet, and curator, Alysha Irisari Malo, CONVERGE is a curated community of creative thinkers who collaborate on interdisciplinary, project-based art and design, lifestyle, and cultural programming that has a positive social impact.