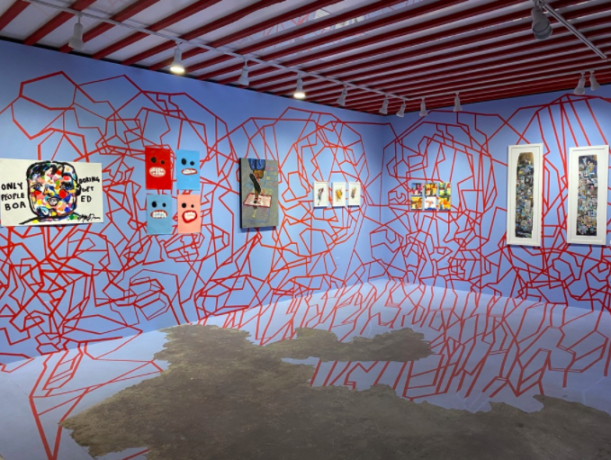 Exhibitions
POCKETS OF REAL PASSION
Eric Mack, Jessica Gatlin, Omari Booker, Ridge McCleod, Frances Berry, Dustin Hedrick
Channel To Channel will present an online-only show through the Summer of 2020. This group show features the work of Eric Mack, Jessica Gatlin, Omari Booker, Ridge McCleod, and Frances Berry over the work of Dustin Hedrick.
In place of Channel To Channel's regular programming due to the pandemic, this show will be shown exclusively online and by appointment only. Pockets of Real Passion includes artists who have a connection with the Southeast United States and primarily use illustrative qualities to produce unique paintings. This show is an extension of Cutting Edge by Dustin Hedrick from February and March of this year which introduced red tape over light blue paint covering the walls and the floor of the gallery.
View the show here: https://www.artsy.net/show/channel-to-channel-pockets-of-real-passion
Check out the exhibition during the Virtual Art Crawl hosted by The Nashville Art Gallery Association on their YouTube Channel, May 2nd at 6pm.