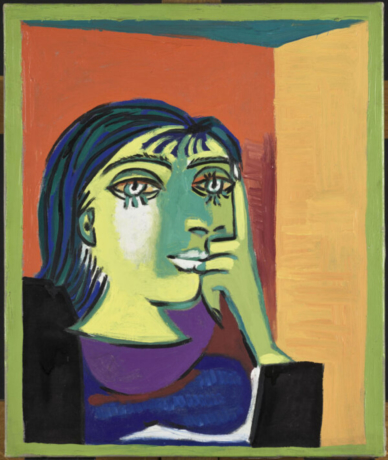 Exhibitions
PICASSO. FIGURES
Pablo Picasso
Picasso. Figures, an exhibition from the incomparable collection of the Musée national Picasso-Paris, offers an in-depth look at Pablo Picasso's career-long fascination with the human body and figuration as a means of expressing a range of subjects and emotions, from love to conflict. Featuring approximately 75 paintings, works on paper, and sculptures, Picasso. Figures will make its sole U.S. appearance at the Frist. Highlights of the exhibition include masterpieces from Picasso's various styles and periods, as well as more intimate works that communicate his spirit of innovation and even playfulness.
The works in Picasso. Figures range from geometric abstractions of the human body to emotionally charged depictions of family, friends, and lovers, showing Picasso's stylistic breadth and ingenuity. The exhibition begins with portraits of women created throughout Picasso's career, offering a panoramic summary of his wide-ranging creativity while providing glimpses of his tumultuous relationships with his wives, mistresses, muses and models. The focus will then shift to Picasso's renowned cubist period of the early 20th century. Of particular interest are works that demonstrate the powerful influence of African and Iberian art on this radical style, in which perceptions of time, space, and reality are altered in ways that came to embody the ideal of artistic freedom in 20th century art. Continuing through the exhibition, guests will see paintings, sculptures, and works on paper showing Picasso's experiments with a range of styles, including surrealism, neoclassicism, and expressionism. Picasso. Figures culminates in late works, characterized by vivid colors, exuberant brushstrokes, and playful twists on the Old Masters, showing that Picasso's boundless desire to reinvent painting continued until the end of his life.
Picasso. Figures is organized in collaboration with the Musée national Picasso-Paris. It was conceived and organized by Emilia Philippot, curator, and François Dareau, associate curator, Musée national Picasso-Paris.
Image: Pablo Picasso (1881–1973). Portrait of Dora Maar, Paris, November 23, 1937. Oil on canvas, 21 3/4 x 18 1/4 in. Musée national Picasso-Paris, Pablo Picasso Acceptance in Lieu, 1979. MP166. © 2021 Estate of Pablo Picasso / Artists Rights Society (ARS), New York. Photo © RMN-Grand Palais (Musée national Picasso-Paris) / Mathieu Rabeau