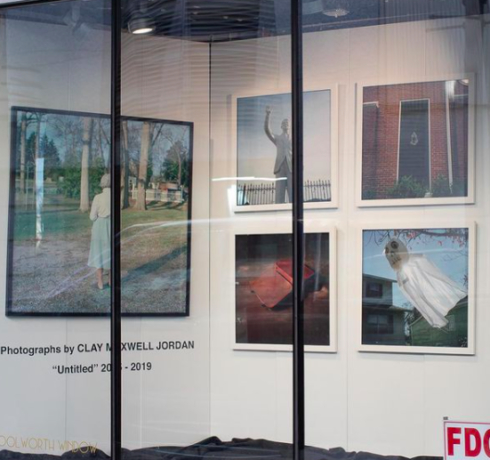 Exhibitions
CLAY MAXWELL JORDAN: UNTITLED
Clay Maxwell Jordan
Jordan's photographs traffic in the symbolism of Southern Gothic literature--a balance of lightness and heaviness, a past which haunts the present. Jordan's recent monograph (which included some of the images in Untitled) bears the title Nothing's Coming Soon, an aphorism which describes the immanence of decay and death as the constants of the human condition.
The largest image (and only portrait) is of an elderly woman, grey-headed, with her back turned to the camera. This anonymity defies any easy narrative, steering the viewer back to the symbolic and the poetic. Smiling ghosts flee from hands joined in prayer, emblazoned on a church door like a seal of protection. A white-marble Reagan--right hand raised to a light blue sky--precedes the prayer hands which have become a correlative for the American Imperative, a revised manifest destiny. Beneath Reagan is a red suitcase, left ajar, face down on old wooden floors, perhaps a conduit for the cartoon-faced ghost of the past; or an emptied vessel, hollowed of meaning and stripped of its former function.
Jordan's work takes on new meaning in light of the current moment of political unrest and a global pandemic which has brought themes of decay and death to the forefront of our consciousness. All the while the images maintain a thread of hope; the play of light and tinge of humor allows us to dwell in the present in spite of the heaviness of the moment.
Clay Maxwell Jordan is a photographer who has exhibited widely both nationally and internationally. He is a 2019 MacDowell fellow and currently resides in Athens, Georgia. His first monograph, "Nothing's Coming Soon," was published in 2019 by Fall Line Press.
ABOUT THE WOOLWORTH WINDOW
The Woolworth Window is a new contemporary art gallery located in the front window of the Woolworth building on 5th Avenue in downtown Nashville. It's always open, so walk on by and check it out.
The Woolworth Building is an important landmark in the civil rights movement, as it was the location of the lunch counter sit-ins in Nashville. These peaceful protests were organized by the Nashville Student Movement and the Nashville Christian Leadership Council, and were notable for their early success and emphasis on disciplined nonviolence. The sit-ins led the way for segregation in Nashville and beyond and many of the organizers including Georgia