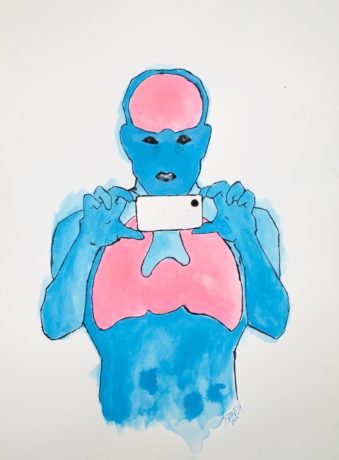 Exhibitions
PAUL COLLINS AND BANDY: MAGICAL BOOKS AND NEW LOOKS
Paul Collins, Bandy
AS A RESULT OF CLOSURES DUE TO COVID-19, PLEASE FOLLOW GALLERY WEBSITE AND SOCIAL MEDIA PLATFORMS FOR SCHEDULING UPDATES AND VIRTUAL EXHIBITION CONTENT.
---
About the exhibit: Magical Books and New Looks will explore the possibility of connection through the avenues of art, dialogue and hospitality. Nashville artists Paul Collins and Bandy have worked with the Downtown Presbyterian Church (DPC) and Poverty and the Arts (POVA) to create an immersive and interactive art experience at the junction of DPC's Saturday Breakfast and Browsing Room Gallery. The exhibition will be open every Saturday morning during DPC's March & April Saturday Breakfast operating hours (8:30-10am). The artists will be on hand during viewing hours to work with the public to create portraits, assist with collaborative art projects and speak about the works.
About the artists:
Paul Collins is an artist, curator and educator in Nashville, TN. Paul has an MFA in Painting & Printmaking from Yale and has been a resident at the MacDowell Colony, Hambidge Center, Skowhegan, Anderson Ranch Arts Center and the Vermont Studio Center. His work has been featured in New American Paintings, Number and Native magazines. Paul teaches at Austin Peay State University and is represented by Red Arrow Gallery, Nashville, TN.
Bandy is a self-taught painter, video artist, poet and activist.
Bandy is a member of the POVA (Poverty and The Arts) art collective in Nashville Tennessee.
https://www.instagram.com/band...
About Poverty and the Arts: Poverty and the Arts (POVA) provides people impacted by homelessness with access to creative resources and an artistic platform to enhance their quality of life. POVA highlights the creative talents of people impacted by homelessness in order to broaden perspectives and foster meaningful and equitable relationships across communities. Our Artist Collective program equips people impacted by homelessness with the artistic resources, training, and marketplace to gain financial independence and overcome barriers to employment by leveraging their creative talent to earn meaningful and legal income.