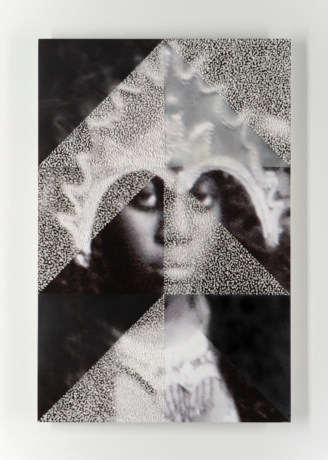 Exhibitions
PAUL ANTHONY SMITH: UNTITLED (MORE HEAT III)
Paul Anthony Smith
mild climate presents Untitled (More Heat III), a solo exhibition from Brooklyn-based artist Paul Anthony Smith.
As part of Smith's continued investigation of the nature of images, the artist presents a new suite of photo-based works. The photographs, a combination of both found and shot, employ the traditional modes of portraiture and landscape in order to investigate the structures of representation.
At the exhibition's center are two untitled black-and-white portraits, which feel direct and solitary, but are in fact cropped from larger group shots: a woman, amidst a procession at the West Indian Day Parade in Brooklyn, and a man, a goalie posing with his Jamaican soccer team. These works deploy Smith's signature practice of "picotage," in which the tooth of the photographic image is metioculously and strategically plucked to produce an effect both textural and optical. Both figures, within their respective contexts, don costumes or uniforms– the concept of a mask as both disguise and decoration is central to Smith's work, and is echoed materially in the picotage technique.
The other 3 works in the exhibition, Untitled (Fence 1-3), depict hedges with flowers as seen through the geometric patterning of a chain-link fence. This suite of works, pulled from Smith's day-to-day walks around his neighborhood, explore pictorial dimension through a gestural manipulation of the photograph: Smith works-over all content sans the fence itself with oil stick, re-presenting the flora in a near-impressionist manner. Here, the photos function essentially as underpaintings, a ground upon which Smith's hand activates his role as visual mediator.
Additionally, Smith will be cooking his special brand of jerk chicken and grilled vegetables at the opening reception, an important component of cultural exchange that is foregrounded by the exhibition's titular reference: this is the third iteration of the artist preparing and sharing jerk on-site in conjunction with a solo presentation.
---
Paul Anthony Smith was born in 1988 in St Ann's Bay, Jamaica and later raised in Miami where he attended the New World School of the Arts. He received his BFA from the Kansas City Art Institute and now resides in Brooklyn, New York City. His work has been acquired by numerous public collections, including most recently the Minneapolis Institute of Art and the Blanton Museum at the University of Texas, Austin. Inclusion in museum exhibitions most recently include a solo show at the Atlanta Contemporary, a two person show at the Philadelphia Photo Arts Center, and group shows at the New Museum, Brooklyn Museum of Art, the Nasher Museum of Art, the Seattle Museum of Art, the Studio Museum Harlem, and the Nerman Museum of Contemporary Art, among others. He is represented by Zieher Smith in New York, where he recently held a solo exhibition earlier this year.