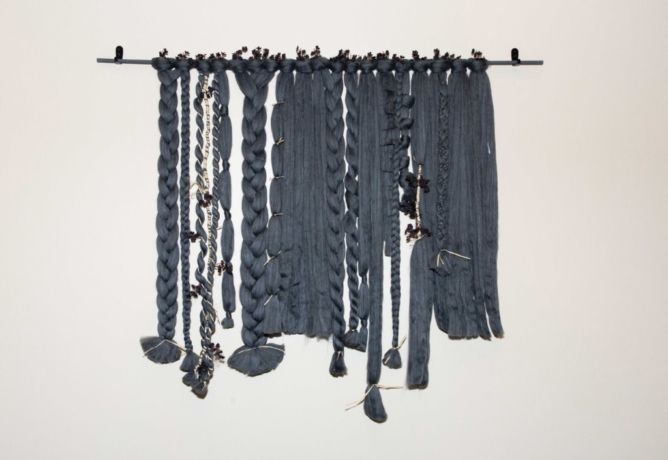 Exhibitions
PAM MARLENE TAYLOR: SPOILER ALERT
Pam Marlene Taylor
Everyone you know will die. You will die, and me too.
When we are dead, we will turn to ash or bone regardless of gender. The graveyard equalizes us, proving death to be a wonderful feminist. But no one dies in a graveyard and what comes before death's impartiality is an unbalanced and unequal state: dying. Decades of research shows it takes more doctor visits and more months for women to receive serious medical diagnoses due to beliefs that symptoms are "all in their heads" or being over-dramatized. Fatal medical inequalities worsen if you are a person of color, LGBTQIA+, or poor. Even with this knowledge, we continue living in our artificial immortality, trying not to think about it too much.
This body of work is a collection of diptychs made with palm raffia and wool roving to represent ash and bone. Artificial flowers are woven through these tapestries as a nod towards immortelles, which are arrangements of dried or artificial flowers made to be placed on graves in cemeteries. Immortelles trick our mind into believing there is life in a space that we created specifically to hold death. I like fake flowers and plants. The presence of living plants in my home gives me anxiety as I worry they will die. I fill my home with artificial plants as I have filled this gallery with them; as a resting place for the fear of death.
By trying not to ruminate on our collective shared future, we forget to notice the inequalities in dying. As you reflect on the year which held the most dying in our country's history, will you remember to ask it "Why?"
Spoiler Alert will be on view during in-person performances at OZ Arts. To schedule an in-person appointment to view the work outside of performance times, please email Artistic Associate Daniel Jones at daniel@ozartsnashville.org.