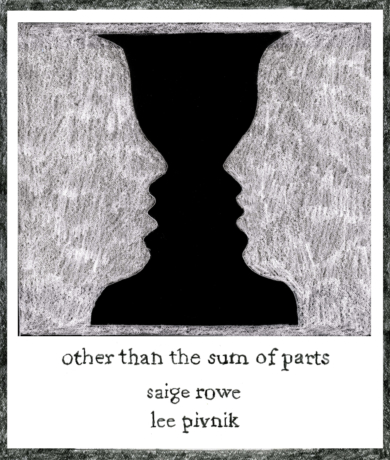 Exhibitions
OTHER THAN THE SUM OF PARTS
Saige Rowe, Lee Pivnik
mild climate is proud to announce Other than the Sum of Parts, an exhibition that brings together the work of Saige Rowe and Lee Pivnik.
Taking the traditional understanding of figure-ground perception as its conceptual starting point, the exhibition presents two artists who use the body as a force to directly engage distinct interpretations of negative space. The pair powerfully points towards the out-of-view, addressing systems and associations both formal and social.
In the performative videos of Saige Rowe, the body is granted a freedom from the constraints typically afforded to it within filmic time and space. As a formal apparatus, the figure explores the boundaries and limits of composition, always seemingly just out of frame. The performer is depersonalized, but not lacking a sense of identity- character now lies within the actions themselves, alchemic exchanges with objects that drive narrative. Choreography is central, present as movements of the body and as the rhythmic editing of the video itself. Rowe's environments are dreamscapes- much like a succession of stills, each bit of action feels like a playful, poetic, and pointed gesture.
Across media, Lee Pivnik reflects upon environmental degradation and queer discourse, two historically and culturally peripheral zones. Centered around a social brand of ecological science, Pivnik's approach challenges the lull of complacency, and the belief in science as a morally neutral concept. The out-of-view becomes forefront in the acknowledgment and inclusion of the queer body within scientific rhetoric; specifically through a refashioning of the subtle linkages between nature and the domain of human values. The delicate wax documents serve as an archive: the contemporary reality of the state of the earth as refracted through the lens of science fiction. These works are a kind of correspondence, organic in material as well as content. As signs of a growing concern, they call for a unified ratification and response.
---
Born in 1993, Saige Rowe lives and works out of Conyers, GA having received her BFA from the Milwaukee Institute of Art and Design. Rowe has exhibited in group shows at Day & Night projects in Atlanta, GA via Selena Gallery (New York, NY) as well as Esther Yang Project Space (Atlanta, GA); Bodega (New York, NY); exo exo (Paris,FR); and at Species (Atlanta, GA) in collaboration with Linda Moncada for is this a love connection.
Lee Pivnik (b. 1995) is a visual artist from Miami, Florida. He lives and works in Miami and Providence RI. He is currently obtaining a BFA in sculpture at the Rhode Island School of Design with a concentration in Nature–Culture–Sustainability Studies. Working predominantly in sculpture, photography and video- his practice serves as a coping mechanism to work through global environmental degradation. On good days, he rejects bleak forecasts with a humorous, colorful and queer aesthetic that manifests itself through inventive and organic forms. Lee co-runs the exhibition platform FRI-ENDS and founded the Institute of Queer Ecology.