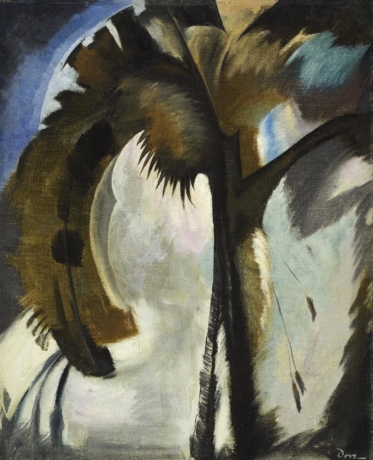 Exhibitions
ORIGINS OF INFLUENCE PART II: THE ALFRED STIEGLITZ COLLECTION OF MODERN ART
Alfred Stieglitz
Georgia O'Keeffe
Auguste Renoir
Pablo Picasso
Diego Rivera,
Charles Demuth
Arthur Dove
Marsden Hartley
John Marin
Origins of Influence Part II: The Alfred Stieglitz Collection of Modern Art
A new spirit enveloped American life at the dawn of the 20th century. It was a spirit of change, dissent, revolution, and of hopefulness. New directions seemed possible in politics, the arts, and in the quality of life overall. Institutions and established ways of thinking were subjected to critical reappraisals. Experimentation replaced acquiescence to received customs and traditions. Alfred Stieglitz embodied this new spirit more than any of his contemporaries working in the arts. At a time when American culture was redefining its fundamental ways of seeing, thinking, and experiencing the world, Stieglitz's seminal role as artist and art impresario defined him as a singular force for shaping a new American vision of art and culture. Origins of Influence: The Alfred Stieglitz Collection of Modern Art celebrates the legacy of the modernist movement.
The Alfred Stieglitz Collection of Modern Art
After his death in 1946, Stieglitz's widow, Georgia O'Keeffe, and her assistant Doris Bry, catalogued and donated most of his extensive collection to institutions at home and abroad. Fisk University was among the first to receive works from O'Keeffe, along with The Art Institute of Chicago, The Metropolitan Museum of Art, The National Gallery of Art, and The Philadelphia Museum of Art. Works were also given to the Museum of Fine Arts in Boston, The Library of Congress, The San Francisco Museum of Modern Art, The Phillips Collection, The George Eastman House, and The National Museum of Modern Art in Tokyo, Japan. Dr. Charles S. Johnson (1893–1956), Fisk University's first African-American president and his close friend, Carl Van Vechten (1880–1964), a New York writer, photographer, philanthropist, and friend of O'Keeffe, influenced her decision to give works to the university for the establishment of an on-campus art gallery. Today, a partnership has been forged between Fisk University and Crystal Bridges that allows this important collection to be shared between Nashville and Bentonville on a biannual basis.