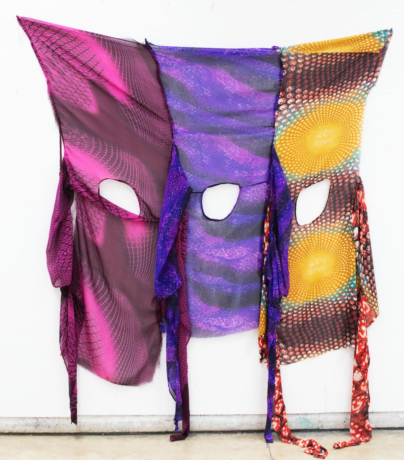 Exhibitions
NUVEEN BARWARI: GUL-BARÎN, THE STATE OF BEING SHOWERED IN FLOWERS
Nuveen Barwari
Red Arrow Gallery is proud to feature a solo exhibition from Artist, Nuveen Barwari. Gul-Barîn the state of being showered in flowers, opens on November 2 with an Artist Reception November 6. During the Artist reception on November 6, Barwari will be joined by Pel Doski, a Kurdish-American, Nashville based poet for a live reading, in response to the work, at 7PM. The exhibition continues through November 28, 2021.
Gul Barîn, the state of being showered with flowers is Nuveen Barwari's first solo exhibition at Red Arrow Gallery. Barwari's work extends beyond the boundaries of painting, fashion, and sculpture. It boldly reflects, and explores conditions of assimilation, colonial amnesia, and the fragmented state of diasporic living. Gul Barîn, the state of being showered with flowers is an attempt at locating the space between a love song and a protest song through visually interpreting and rewriting Kurdish literature, history, and dance.
Barwari's process of making involves gathering and repurposing artifacts from her community such as Kurdish clothes, found rugs, photographs from family archives and news articles. She uses these materials to draw, paint, cut, screen print, and sew to create discrete objects and larger immersive installations. While she is cutting and collaging with rugs and Kurdish dresses, she is also stretching the fabric and taking them out of their flowy forms, revealing and concealing different symbols with paint and fabric. The patterns that Barwari abstracts from these materials often shift from being decorative to interrogating cultural symbols, remapping, and imagining new cultures, borders, and languages. There is a sense of history and loss in the way elements of the body are presented in Barwari's work. The use and reuse of textiles evokes how they might have looked on a person, how they would have danced or even moved in them. The imagery that she uses in her work will often function as memorial pieces or as collecting evidence. Barwari draws from a wide range of influences from abstract painting to political posters, fashion, and the sloppy borders that were drawn by the French and British in 1919 with no regard to the ethnic communities of West Asia, the region we call the "Middle East" that cut and divided Kurdistan up like a rug into four different pieces currently occupied by Iraq, Syria, Iran and Turkey.