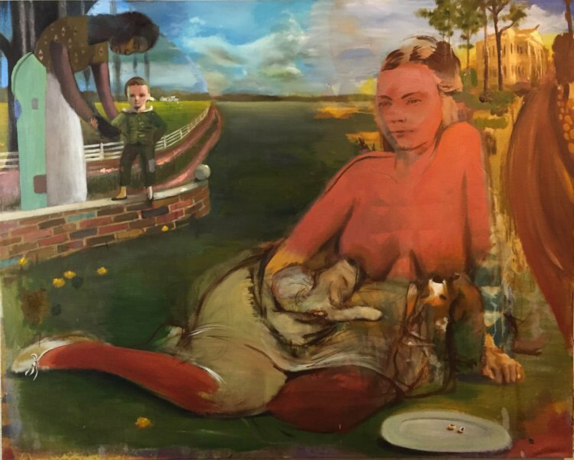 Exhibitions
NOAH SATERSTROM: SHUBUTA AND OTHER STORIES
Noah Saterstrom
Samuel Dunson
Noah Saterstrom's newest body of work Shubuta and Other Stories bravely explores the well-documented history of a prominent slave owning family that inhabits a branch of his family tree. His first solo exhibition with us will also include a selection of works by painter Sam Dunson. Dunson is a prominent figure in Nashville's art community, a true painter's painter and a descendent of slaves. Each artist handles material - both studio and ethological - in a way that speaks to the other. In this case, quite literally. This exhibition brings these two accomplished mid-career painters together to participate in groundbreaking visual dialogue. Samuel's piece "Antebellum", a direct response to Noah's "In Times of War", will be revealed on opening night along with a number of collaborative works on paper.
Please join us for an intimate reception on Friday, January 13th, 6 - 9p. The exhibition will be up through February 15th.
We also invite you to a discussion with artists Noah Saterstrom and Samuel Dunson moderated by Jochen Wierich, former Cheekwood curator, current consultant for the Mississippi Museum of Art and Art History professor at Belmont University. It will be held at White Avenue Studio, January 19th, 6:30 - 8:30p.