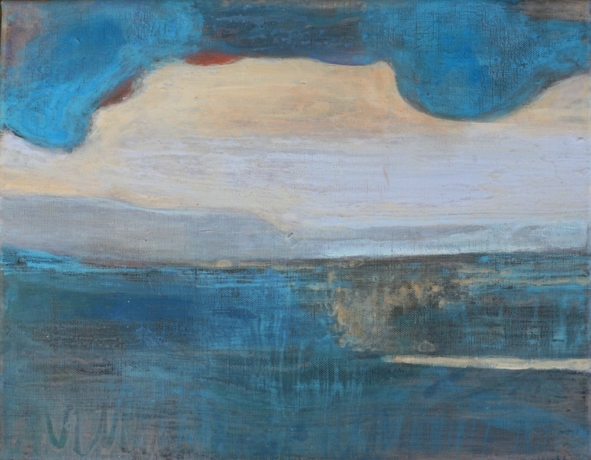 Exhibitions
NEW WORK: VIVIENNE FLESHER, WARD SCHUMAKER, MATTHEW SCHUMAKER
Vivienne Flesher, Ward Schumaker, Matthew Schumaker
Vivienne Flesher
Vivienne Flesher's latest paintings on canvas and paper feature colorful landscapes and the occassional human figure. They might be seen as mediations on nature and contemplations of a bigger picture. In every instance, their modest size inspires a sense of awe and majesty that is further supported by the careful building up of paint on the surfaces and the spontaneity of its handling.
Vivienne Flesher has a long and notable history as an illustrator. Her career spans U.S. stamps: Love Stamp and Amber Alert Stamp; national media such as the New York Times, Washington Post, The New Yorker, Rolling Stone Magazine, Martha Stewart and Starbucks, NPR to name a few. While creating a huge campaign for the Kennedy Center for the Performing Arts, Stir Gallery in Shanghai saw the work and offered her a show. Flesher graduated from Parsons School of Design. She has shown her paintings in The Parsons Gallery in New York, Parco and Shiseido Galleries in Tokyo, Stir Gallery in Shanghai, Zeitgeist in Nashville and Jack Fischer in San Francisco.
---
Ward Schumaker
Ward Schumaker works with images, stenciled script, and an intuitive feeling for paint application in this latest body of work on panel.
Previous exhibitions have focused on themes of geography, eastern philosophy/metaphysics, the "space race" and launch of the first French atomic submarine, and the Trump Administration.
These subjects, many that had been of longtime interest, have less to do with engineering than something deep inside: a probing for mystery, meaning, power, and identity.
Ward Schumaker has shown in New York, San Francisco, Shanghai, UC Berkeley, Los Angeles, Sacramento, Charleston, Miami, and Nashville.
His work can be found in the Achenbach Foundation (Fine Arts Museums of San Francisco), The Zimmerli (Rutgers); The Joslyn Art Museum (Omaha), and The Crocker Art Museum (Sacramento, CA).
As an illustrator, Mr. Schumaker's work has appeared world-wide, working for The New York Times, The Boston Globe, Süddeutsche Zeitung, The Washington Post and Le Figaro; The New Yorker, Poetry, Oprah Magazine, Martha Stewart, Enjeux Les Echoes, and Newsweek. He has created images for Hermès, United Airlines, Herman Miller, American Express and many other corporations.
---
Matthew Schumaker
Matthew Schumaker is a composer of concept-driven work arising from computer-assisted composition research, interactive computer music with performers, and computer graphics. His work emerges from a parametric viewpoint, building artistic solutions from a dialogue between algorithm and intuition, and seeking interdisciplinary connections between music and the sciences and visual arts.
Boulez looked to Klee's pedagogical sketchbook as a guide for creating the heterophony of musical lines in his later works and at different points, I've been looking at abstractions by artists like Julie Mehretu and to parametric architects like Zaha Hadid to inform my music.
In this latest work, Temporary Structures, I am seeking to make these connections between musical and visual lines and structures more explicit and palpable.
Matthew Schumaker received a doctorate in Music Composition from UC Berkeley (UCB). In separate year-long studies abroad, he also worked closely with Louis Andriessen in Amsterdam and, through UCB's Prix de Paris, with Martin Matalon in Paris. From 2015-17, Schumaker was a Lecturer at UCB. During 2018-20, Schumaker was a Martin Luther King, Jr. Visiting Scholar at MIT where he also taught for three years. He is currently assistant professor in the Music Department at UC Santa Cruz.