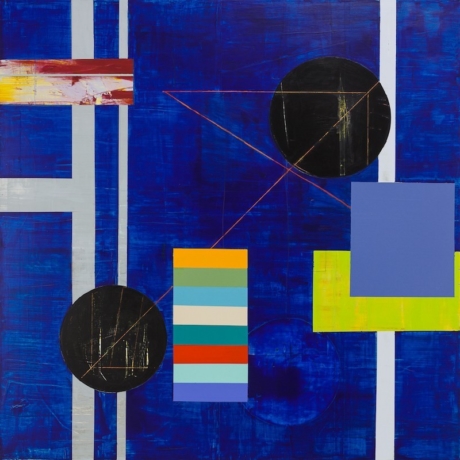 Exhibitions
NEW WORK BY CAROL MODE AND ARDEN BENDLER BROWNING
Carol Mode, Arden Bendler Browning
Tinney Contemporary is pleased to present Sequences, an exhibition of new work by Nashville based artist Carol Mode. This exhibition presents a central theme of Mode's work, illustrating a process of developing abstract paintings aimed at solving problems of design and color interactions within sequences. While each work stands alone, together they offer a testimonial to my working process. As a seminal piece begins to emerge, Mode enters a 'zone' where possibilities multiply and alternative solutions present themselves. Choice after choice leads her to explore ever-more complex actions and outcomes, so that the process itself becomes a challenging tool for new discoveries.
All through Carol Mode's long career as a painter, she has observed a culture where "the suspension of disbelief" is called for as one is seeking personal authenticity. Mode's own inclination is to seek an 'unsafe path' – one that challenges the idea that an earlier series of familiar perceptions can continue to be reliable. It has led her into uncharted territory, where the freedom to re-invent a process has itself become a powerful tool for discovery (as well as the means to share in the excitement of wrapping oneself within a private, creative world). At the heart of Mode's experimentation with ideas behind 'sequence formations' there were complex choices that diverged over time and had to be reconciled. One linkage came together between Blue Origins and Spring to Green with their sweeping reminders of emergent forces in nature; another sequence evolved into Shape Shifting, where a virtual triptych comes about using geometric forms "stretched out" in pursuit of color closure and proportional relativity. This range of expectations expressed here goes from a synthesis of pure planarity in Construct to individual concept pieces (small acrylic studies) showing Mode's aspirations.
---
In the rear gallery: ALL AT ONCE - Arden Bendler Browning
In the rear gallery, Tinney Contemporary will be showing new paintings by Philadelphia based artist Arden Bendler Browning. Bendler Browning creates large abstract paintings referencing urban landscape and multiple perspectives. She draws from a wide range of sources as inspiration: the temporality of Impressionism, the gestural energy of Abstract Expressionism, and the combination of disparate forms from Postmodernism.
Travel - whether the everyday paths throughout her urban home base, or the moving landscape from a family road trip - has become the common thread throughout her work. Her paintings reflect on a persistent tension between time and memory, the layering of images, and developing complex representations that allude to the impossibility of fully capturing, knowing, or reaching a destination. She merges seemingly disparate elements, jumbling and layering references of thousands of photographs and gestural studies of light, color, and movement, retaining a feeling of place and time and our movement through both.
Arden Bendler Browning lives and works in Philadelphia, PA. Her pieces are included in several public collections including the West Collection, the Pennsylvania Convention Center, PNC Tower, and numerous private collections. Bendler Browning's works have been featured in New American Paintings twice (2009 & 2013), Philadelphia Style Magazine, The Morning News, the artblog, polisblog, Philadelphia Inquirer, Icon Magazine, Atlanta Journal-Constutition, and Drawing Magazine, among others. She has been featured in exhibitions at the Pennsylvania Academy of Fine Arts, Arlington Arts Center, Swarthmore College, Delaware Contemporary, Kutztown University, and the James A. Michener Museum. A commissioned permanent work for the City of Philadelphia at the Philadelphia International Airport, awarded through a rigorous competition and selection process, was recently completed in early 2017. Bendler Browning holds a BFA in Art with honors from Carnegie Mellon University (1997), a Master of Studio Art with high distinctions from Sydney College of the Arts/University of Sydney (2000), and an MFA in Painting from Tyler School of Art/Temple University (2003).