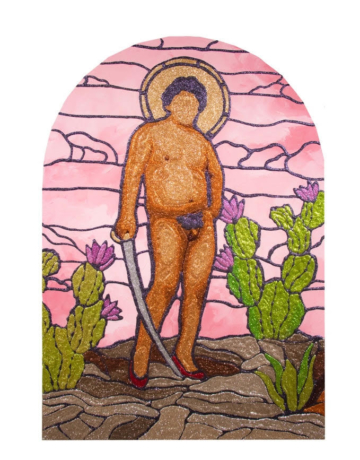 Exhibitions
MOISES SALAZAR: GRACIAS A LA VIDA
Moises Salazar
Red Arrow Gallery is honored to present Gracias a la Vida, a solo exhibition from Chicago based, multidisciplinary Artist, Moises Salazar. Gracias a la Vida opens on February 5, 2022 with a reception from 6-9pm.
Making their Nashville debut, Moises Salazar plans to transform Red Arrow Gallery into a temporary chapel for viewers to come and honor their loved ones. Alluding to stained glass windows, arched glitter paintings will adorn the exhibition space. The inclusion of a custom prayer cushion will allow for audience participation with the exhibition and tufted rugs of angels will create an emphasis of grandeur, alluding to ceiling murals in cathedrals. The chapel will be a place of inclusivity.
Gracias a la Vida is an exhibition that combats the erasure of queer narratives. It is a collection of glitter works that create a chapel dedicated to our queer ancestors. The audience is invited to reflect on their lineage and honor the untold narratives of their family. For social stigma and religious upbringings many of our past relatives were not able to freely live openly queer lives. Gracias a la Vida understands that If our ancestors were not able to have agency in their lives then we have the responsibility to honor and celebrate them in the way they were always meant to be.*
---
MOISES SALAZAR is a non-binary multidisciplinary artist based in Chicago, Illinois. Being first generation Mexican American has cemented a conflict within Moises Salazar's political identity, which is the conceptual focus of their practice. Whether addressing queer or immigrant bodies, their practice is tailored to showcasing the trauma, history, and barriers these people face. Reflecting on the lack of space and agency they possess. Salazar presents queer and immigrant bodies in environments where they can thrive and be safe. It is by examining the intersections of race, ethnicity, nationality, gender, queerness and the United States history that Moises Salazar addresses the reality of the barriers that immigrants and queer individuals face with the intention to begin to dismantle the myths and stereotypes used to criminalize and dehumanize them.
Their work has been exhibited nationally and internationally at Woaw Gallery, Salon ACME, HAIR+NAILS, the Museum of contemporary art Chicago, NADA FAIR Chicago, Kohn Gallery, the Chicago Cultural Center, Mindy Solomon and most recently at their solo booth at SPRING/BREAK NYC presented by Filo Sofi Arts. They have participated in the ACRE residency and are a recipient of the LuminArts Visual arts Fellowship. They hold a BFA from the School of the Art Institute of Chicago.