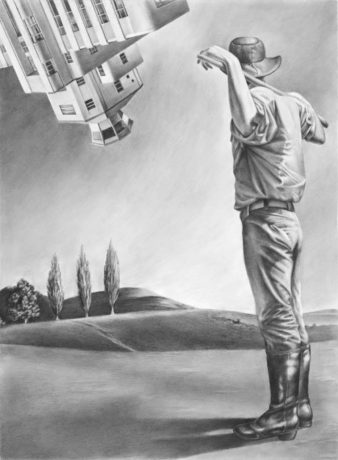 Exhibitions
NEW ARRIVALS
Meg Aubrey
Barry Buxkamper
Mark Eanes
Jeri Eisenberg
Bob Durham
Warren Greene
Johan Hagaman
Farrar Hood Cusomato
Bill Killebrew
Joanne Mattera
Marilyn Murphy
Heather Patterson
Caroline Waite
Saturday August 19th, 10 am - 5pm: Opening day with refreshments and music.
Saturday August 26th, 11am: Artist Talk with Caroline Waite and Johan Hagaman.
---
To close the summer season Cumberland Gallery presents New Arrivals, a group show featuring recent works by the following artists: Meg Aubrey, Barry Buxkamper, Mark Eanes, Jeri Eisenberg, Bob Durham, Warren Greene, Johan Hagaman, Farrar Hood Cusomato, Bill Killebrew, Joanne Mattera, Marilyn Murphy, Heather Patterson, and Caroline Waite.
Kentucky artist Caroline Waite and Nashville native Johan Hagaman will give a joint artist talk on Saturday August 26th (11am). Waite presents a new body of work consisting of eight small free-standing assemblages on metal adjustable stands, incorporating found objects as her work often does. Johan Hagaman constructs her base out of metal and wire, then she layers concrete to build up the three-dimensional form. In addition to her wall-sculptures, Hagaman will also present mixed media drawings. Assemblage versus Sculpture, listen in for this unique dialogue between two female artists who explore materials from different angles.