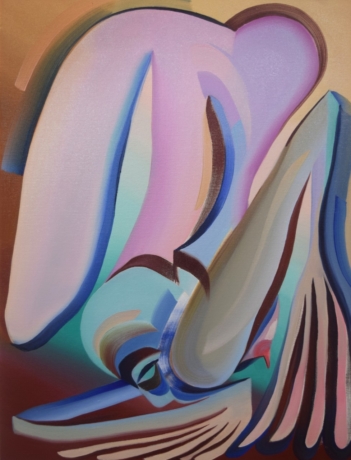 Exhibitions
NERVE
María Magdalena Campos-Pons, Elizabeth Glaessner, Shannon Lucy, Ceres Moberg, Karen Seapker, WIFE, Jenna Westra
Curated by Laura Hutson Hunter

Co-produced by Wilder and the Nashville Scene
The female form is an ancient idol, in art and in life. Yet it continues to be a battleground for the macro and micro wars we'll never stop fighting. The war at home, women's lib, the fight for reproductive freedom - if nothing else, it's stunning that these old stories remain unresolved, that a woman's body is still not her own, that nudity is risk.
Nerve is the first installment in the Adult Contemporary series of art exhibitions curated by Nashville Scene arts editor Laura Hutson Hunter. Each exhibit is organized around a particular theme - the theme of Nerve is women's depictions of the female body, and the paintings, photographs, drawings and videos are by artists based in Nashville, Brooklyn and Los Angeles.
Before the launch of Adult Contemporary, Hunter curated several other exhibits — including Selvage at Tennessee State University (co-curated with Jodi Hays), Triple Fantasy at Third Man Records, and Sleep Eazy at the Iris Motel. She's written about Nashville artists for national publications like Vice and Art In America.
As part of this exhibit, Shannon Cartier Lucy will have a limited run of prints of her painting "Morning Prayer" available.
---
** Maria Magdalena Campos-Pons' work is courtesy of the artist and Gallery Wendi Norris. Elizabeth Glaessner's work appears courtesy PPOW Gallery. Karen Seapker's work appears courtesy of Zeitgeist Gallery.