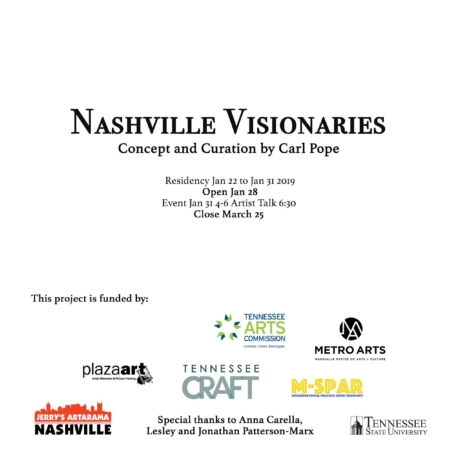 Exhibitions
NASHVILLE VISIONARIES
Concept and Curation by Carl Pope

Artist Carl Pope is looking for text based work from Nashville citizens, that is imaginative and visionary in some unusual or radical way. He is looking to identify writers, musicians, poets, visual artists, professors, students and visionaries in Nashville to contribute to Nashville Visionaries. Work accumulated will be designed and curated by Pope during his residency at TSU into Nashville Visionaries, to be on display in the Hiram Van Gordon Gallery from January 28th to March 25th, 2019.

"I wish to investigate and uncover unknown creative voices in Nashville who use writing to articulate their unique experience of life. As a socially engaged artist who explores the frontier of American literature, this kind of exploration is regenerative to the creative community in Nashville for artists in every discipline and at every level of achievement. I regard this project as a celebration to appreciate the very creative impulse that makes the Nashville music scene what it is today as a major contributor to the American artistic tradition." - Carl Pope

Live performances will be scheduled for the opening and through the run of the show. The gallery will be used as a venue for various kinds of speeches, lectures, concerts, psychic readings, comedy standup, poetry slams, sermons and performances during the run of the show, looking for the visionary.
---
For more information contact: Gallery Director Courtney Adair Johnson at cjohn173@tnstate.edu or 615-445-0935
Hiram Van Gordon Gallery, Elliott Hall, HOURS M-TH 10-4PM