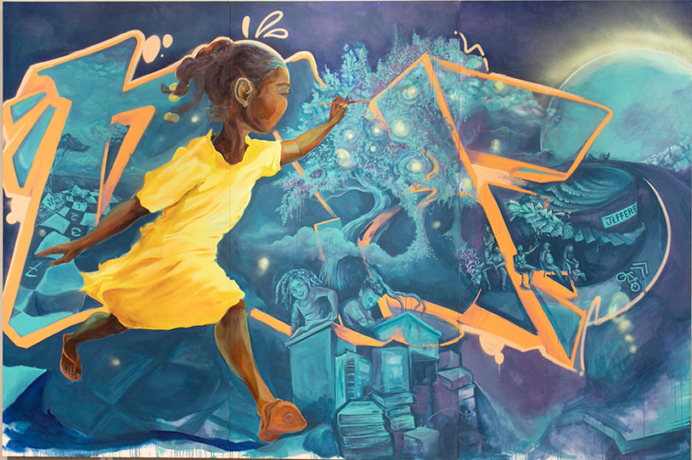 Exhibitions
MURALS OF NORTH NASHVILLE NOW
Nuveen Barwari, Omari Booker, LeXander Bryant, Brandon Donahue, Marlos E'–van, Courtney Adair Johnson, Elisheba, Israel Mrozik, Norf Art Collective, XPayne
With Nashville's rapid growth in recent years, a vibrant street art scene has emerged. New murals can be seen on walls across the city, from The Nations to the Gulch to Nolensville Road. Murals found in North Nashville, a historically African American part of town, stand out because they are typically made by artists with strong ties to the neighborhood and because much of the imagery reflects both its rich history and current social issues.
A young generation of artists—many following in the tradition of Tennessee State University professors Sam Dunson and Michael McBride, and mentors Michael "Ol Skool" Mucker, James Threalkill, and Thaxton Waters—will offer their perspectives on the present position of North Nashville through newly commissioned site-specific murals. Imagery will demonstrate the multifaceted nature of its identity and speak to persistent problems facing the community such as displacement, gun violence, and incarceration, as well as positive aspects like thriving black-owned businesses, a revitalized art scene, and valuable educational institutions. Artists will work with youth at McGruder Family Resource Center to create a collaborative mural that will also be on view at the Frist.
This exhibition shines a light on a culturally and historically important, yet often underserved, Nashville community. The project also explores what role the arts play in urban redevelopment and in the expression of neighborhood and individual identities, further testifying that art can be found all around us, not just inside museums and galleries.
---
Image credits:
Norf Art Collective. Forever, 2019. Acrylic spray paint, acrylic, and oil on panel, 96 x 144 in. Courtesy of the artists. © Norf Art Collective. Photo: LeXander Bryant
Elisheba Israel Mrozik. Unmask 'Em, 2019. Acrylic on panel, 96 x 144 in. Courtesy of the artist. © Elisheba Israel Mrozik. Photo: LeXander Bryant
LeXander Bryant. Opportunity Co$t, 2019. Graphic and wheat paste on panel, 96 x 144 in. Courtesy of the artist. Photo and artwork © LeXander Bryant