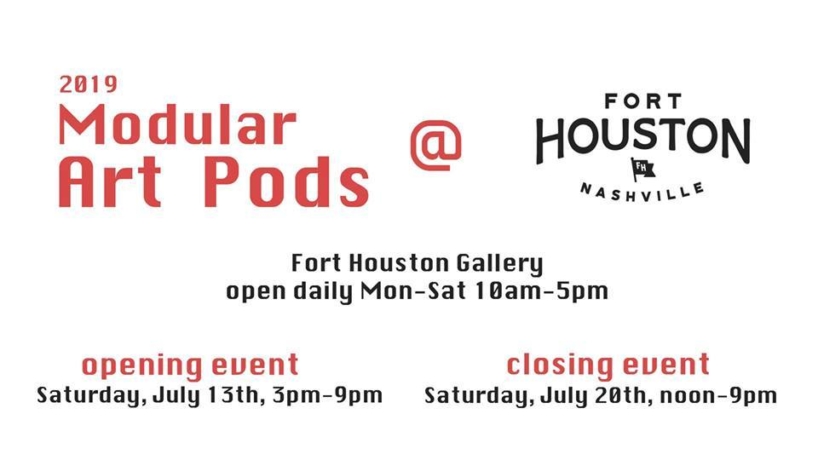 Exhibitions
MODULAR ART PODS 2019
Amanda Lomax, Pepper Sims, Beth Reitmeyer, Dylan Pew, Eric JT Mason, Libby Michael, Kay Kennedy, Matthew Kinney, Madeleine Hicks, Cassie Hamilton, Kara McLeland, Nico Magee, Megan Kelley & The Inbound Lands, Lauren Michelle Ballejos, Claire Ramage, Sophia Gordon-Stevens, Teddy Gordon-Stevens
Prepare to party with cat puppets, attend an indoor bonfire, plunge into the depths of the forest and the human body alike, examine relics from a distant realm, meet a cyber-ghost, and meditate on magic in a shimmering pavilion.
Modular Art Pods is an interactive art concept created by Tony Youngblood right here in Nashville, TN. Artists create a network of small-scale art installations called Pods, which fit together to form crawlable tunnels that guests can explore inside and out.
The Modular Art Pods concept is licensed through the Creative Commons. Anyone, anywhere, can host a Modular Art Pods event! Abbey Skojec and David Hellams are organizing this one, in gratitude to the inspiring gift of MAPs creator Tony Youngblood and others who have contributed to this concept and history since 2015. For details on how to host a MAPs event, or to learn more about amazing past and future Modular Art Pod displays, visit ModularArtPods.com and like Modular Art Pods on Facebook.