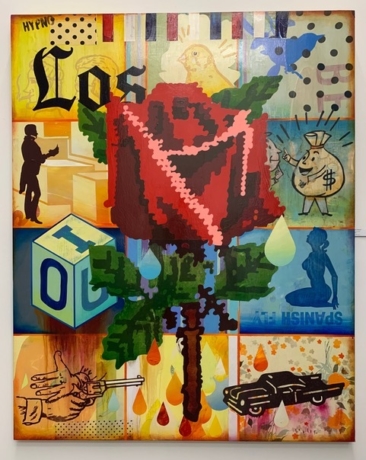 Exhibitions
MARK HOBLEY & MARC SANDOVAL: UNDER THE SOUTHERN INFLUENCE
Mark Hobley, Marc Sandoval
Mark Hobley and Marc Sandoval both lived in California, unknown to each other, but both felt the desire to pack up and make their way to Nashville. Mark Hobley from Venice Beach via Arizona and Marc Sandoval from further south, San Diego. As fate would have it, the two would meet up at one of Marc's art shows in Nashville. During an opening at Modfellows, the idea to join forces and do a two-person exhibit, called Under the Southern Influence was born.
Hobley's works are mostly large format storyboard paintings on wood framed panels or canvas. He uses his brush like Jack Kerouac used his words to describe the experience to be on the road in America during the 1950's and 60's, his paintings are contemporary works full of deep colors of jazz, heavy layers of spirituality and bold iconic symbols of promise and hope. After spending time with these paintings, they start to feel like vignettes of memories that have passed or feelings that have yet to be unearthed.
Sandoval is passionate about southern girls and drag strips. Marc's rev'd up paintings on canvas are inspired by old photographs of drag strips and flag girls like "Hurst Girl" Linda Vaughn and "Trophy Girl" Barbara Roufs. Marc's paints these women as powerful "Barroom Roses" adorned with big hair, big hats & big brass belt buckles with high-octane attitude against a backdrop of 70's muscle cars and dragsters.
With these two powerhouse artists you're sure to get your fix - a little bit country and a whole lotta rock n' roll.