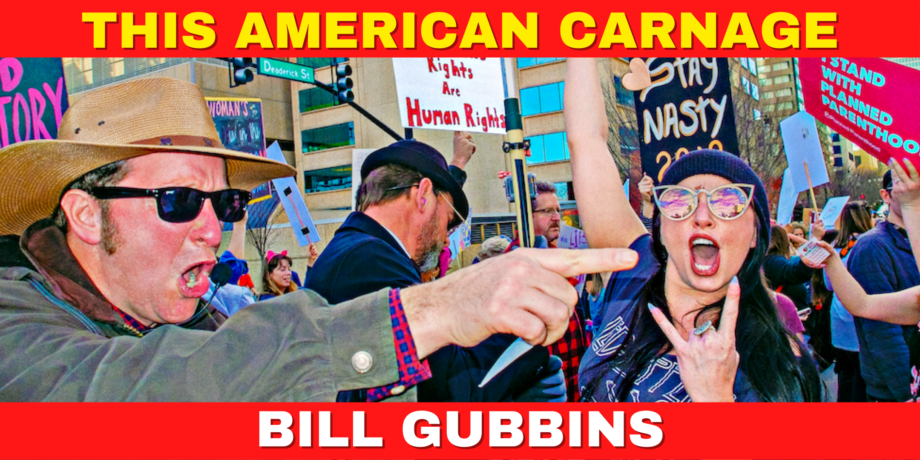 Exhibitions
BILL GUBBINS: THIS AMERICAN CARNAGE
Bill Gubbins
Nashville artist Bill Gubbins' epic This American Carnage is an important documentation of modern-day American life paralleling the work of 1950's pivotal artist, Robert Frank and his seminal work, The Americans. Though works from This American Carnage have been shown in Los Angeles, Atlanta, Nashville, and Klagenfurt, Austria, this is the first time it has ever been shown in its totality.
The exhibit opens Saturday, March 5, 2022 at Modfellows Art Gallery from 6-9pm. The show will run from March 5th through April 2nd.
Within this collection of images, Gubbins captures a raw America, from expected fanatic sports fans and packed bars to unexpected insidious messages disguised within construction machinery and city skylines. This American Carnage is a well-rounded commentary on everyday America. It might make you laugh, or cry - simultaneously - but one thing is for sure, this work will move you.
This American Carnage has won awards from L.A.'s influential Fabrik Gallery and the Atlanta Photography Group. The collection has been published in Fabrik's Portrait of America Exhibit Catalog and in Nashville Arts Magazine. Excerpts have also been shown in the Humble Arts Foundation online exhibit, New Psychedelics, and in the online literary journal, The Wall. Finally, perhaps its highest honor, This American Carnage has been very positively reviewed by noted collector and photo book reviewer Robin Titchener.