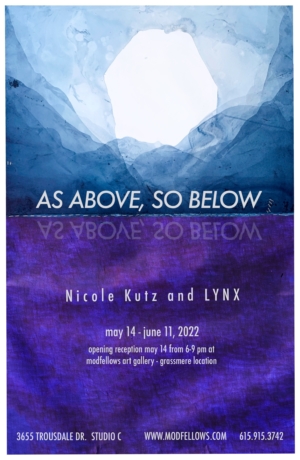 Exhibitions
NICOLE KUTZ & LYNX: AS ABOVE, SO BELOW
Nicole Kutz, LYNX
Nicole Kutz and LYNX met while pursuing their MFAs at the Savannah College of Art and Design. While they now live across the country from one another and use different art media, they are connected by their desire to create artwork that imitates and celebrates nature. Everything in the universe comes from the same source - there is a harmony, agreement, and correspondence between our spiritual and physical planes that transcends into all facets of being. "As above, so it is below. That which has been, will return again. As in heaven, so on earth."
Nicole's work meditates on life's transience by using handmade pigments and dyes to create ethereal abstract worlds. She frequently draws inspiration from Wabi-sabi, as well as the Japanese artforms of shibori and kintsugi, and ultimately finds beauty in the work's imperfections. "I started dyeing paper with indigo to cope with my grandmother's decline from Alzheimer's disease. While I watched her mental state fade away, her spark would emerge when she sang the Army Air Corps chant, "Off we go into the wild blue yonder". I felt a calling to capture that blue yonder through art and create a refuge not only for her, but my psyche as well. My new body of work holds true to this sentiment, but has a new approach to resisting change and how projecting anxiety changes your environment." Nicole's paintings have been shown in galleries, corporate institutions and private collections throughout the world including: Los Angeles, Atlanta, Miami and London. Nicole currently lives and works in Seattle, WA.
LYNX contemplates nature by way of repetition. The repeated gesture of making millions of small tally marks with a ballpoint pen is a reflection of our existence. This body of work combines simplicity and discipline while eliminates everything that is not essential in order to capture life's most profound energy and rhythm. "Each day I make a million tally marks with ballpoint pen. Each tally mark represents a breath. When you breathe, you are alive. This is a reminder to oneself to live in each moment." LYNX was born in Dong Thap, Vietnam in 1985. He and his family moved to the United States in 1993. Lynx focuses most of his effort on drawing, especially marks making, as a tool for self-discipline. Currently, LYNX lives and works in Atlanta, GA.

This exhibit will be on view from May 14th through June 11th, 2022 at the Modfellows Grassmere Location. Opening reception will be May 14, from 6-9pm.