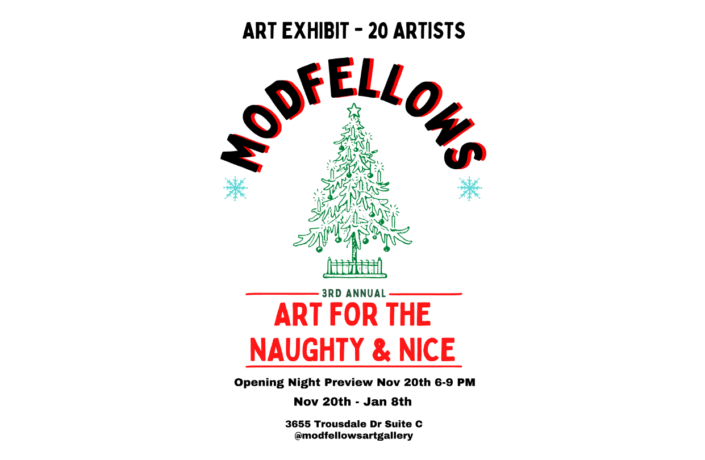 Exhibitions
3RD ANNUAL "ART FOR THE NAUGHTY & NICE" EXHIBIT
Ryan Rado
Nicole Kutz
Seals Brock
Eliza Eaton
Curtis Stage
Richard Heinsohn
Jolie Booth
Amber Lelli
Will Morrow
Mark Hobley
Andy King
Aaron Worley
Nathaniel Covington
Mason Peters
Alison Underwood
K.J. Schumacher
Cameron Kester
Price Harrison
Maggie Sanger

It's that time of the year! Modfellows Art Gallery presents the 3rd Annual Holiday Group Exhibition, Art for the Naughty & Nice. This year's show includes 20 artists presenting their original works - salon style. You'll have the opportunity to snap it up, gift it, or take it home… no waiting until the end of the show.
Art for the Naughty & Nice will include newcomers to Modfellows Gallery: Ryan Rado's abstract velvet paintings, Nicole Kutz's pigments on paper, wearable art by Seals Brock and Eliza Eaton, West Coast abstract photographer, Curtis Stage, Richard Heinsohn, and work by emerging artists, Jolie Booth, Amber Lelli, and Will Morrow.
Returning are some of our favorite local, national, and international artists including Mark Hobley, Andy King, Aaron Worley, Nathaniel Covington, Mason Peters, Alison Underwood, K.J. Schumacher, Cameron Kester, Price Harrison, and Maggie Sanger.
The 3rd Annual Art for the Naughty & Nice Exhibition will begin on November 20, 2021, with an opening reception, and run through January 8, 2022.