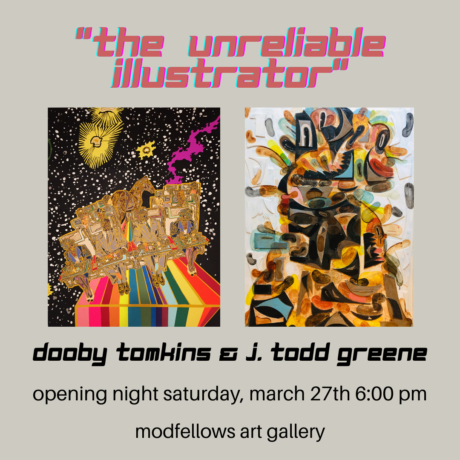 Exhibitions
DOOBY TOMKINS & J. TODD GREENE: THE UNRELIABLE ILLUSTRATOR
J. Todd Greene, Dooby Tomkins
The Unreliable Illustrator, a joint exhibition by Nashville artists Dooby Tomkins and J. Todd Greene. Tomkins' work consists of complex, hand-cut layered paper pieces. His pieces explore vibrant colors, pop-culture iconography, and layered paper. His intricate, hand cut pieces create a discourse between flat paper and the space it inhabits when layered. Alternatively, Greene's acrylic paintings on canvas employ more subliminal colors, abstract shapes, and implicit imagery. His works are introspective and a step towards the surreal. The Unreliable Illustrator will exhibit new works from both artists.
William R. "Dooby" Tomkins earned a BFA with concentrations in painting and drawing from the University of Tennessee at Chattanooga.


J. Todd Greene earned a BFA in Illustration from Savannah College of Art and Design (SCAD).

Join us opening night for an artists reception on Saturday, March 27 from 6:00 p.m. – 9:00 p.m.
The Unreliable Illustrator runs from March 27, 2021 – April 24, 2021 at Modfellows Gallery.