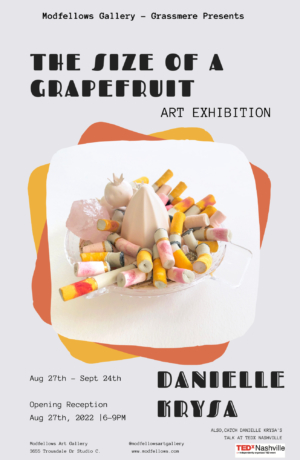 Exhibitions
DANIELLE KRYSA: THE SIZE OF A GRAPEFRUIT
Danielle Krysa
The Size of a Grapefruit is a new exhibition coming to Modfellows Art Gallery. This show displays a collection by artist Danielle Krysa that takes the audience on a journey of growth through witnessing the beautiful flourish from the ugly. The title is derived from Krysa's interest of pain measurement, as doctors often use fruit sizes to describe the tumors. Krysa found that one in three women will be told her pain is caused by "a large orange, a small melon, several cherries, a few plums, a medium sized grapefruit, etc".
In The Size of a Grapefruit, the viewer finds an altar space, behind a curtain, where they can intimately connect with a shrine of "specimen jar" sculptures which reimagine pain and loss as sparkly damaged jewelry, crystals, "sugar coated" fruit and flora, shattered ceramic, and hundreds of lipstick-stained clay cigarettes. Krysa's mixed media collages hang on the gallery walls, the clay butts replaced with paper cigarettes, but the message is still the same: difficulties, grief, and pain will try to hold us down, but if that trash is used as fertilizer, we can blossom into something even more beautiful.
Danielle Krysa is a Canadian artist who received her BFA in Visual Arts and post- graduate degree in Design. Online, she is known as the Jealous Curator. In print, she is the author of "Creative Block", "Your Inner Critic is a Big Jerk", "A Big Important Art Book—Now with Women", and her first children's book, "How to Spot an Artist". In the studio, she combines found imagery and old objects to create new stories. With The Size of a Grapefruit, Krysa takes us on a journey of the flourishing transformation of ugliness and pain into something elegant and precious as she asks us if the broken can still be beautiful.