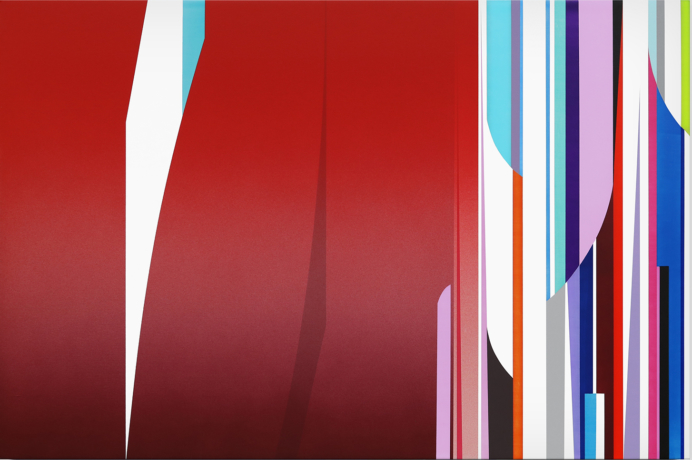 Exhibitions
DION JOHNSON & CHRISTOPHER PATE: FUTURE PERFECT
Dion Johnson, Christopher Pate
The two-person exhibition Future Perfect pairs the work of Dion Johnson and Christopher Pate, artists whose unique visions are rooted in a nervously optimistic view of the world and human nature. A perfect world is a fantasy, but there remains faith that we might at least come close, if only we remain true to our most noble instincts. In the meantime, we can only dream and strive for a future perfect.
The term 'future perfect' is of course a grammatical term, being the verb tense that refers to a completed action at a certain future point. The reference to grammar is apropos, as both artists adhere to their own idiosyncratic visual grammar, grounded in systems of grouping and arranging visual components to create evocative poetic expressions.
Dion Johnson uses a condensed vocabulary of vertical bands, curves and atmospheric gradients, which lead to a rich and varied range of abstract landscapes which form seductive emotional/psychological meditative spectrums. Christopher Pate paints and rubs graphite on extremely filtered and blasted photographic images, resulting in optically vibratory explorations of the natural world as presented within the artifice of gardens and preserves.
Although the artists have been friends and mutual admirers for years, this is the first time they have shown together in a two-person exhibition. Visitors will encounter a robust call and response between works, a bounce between the micro- and macroscopic, the photographically detailed and purely abstract, which will provide sustenance to eyeballs hungry for extreme visual constructs verging on perilous beauty.
We will be open to the public with a few safety requirements, masks will be required and we will limit the number of people in the gallery. Let's keep things fun and safe. If you would rather have a private viewing, we would be very happy to make a reservation. Please contact the gallery for an appointment.