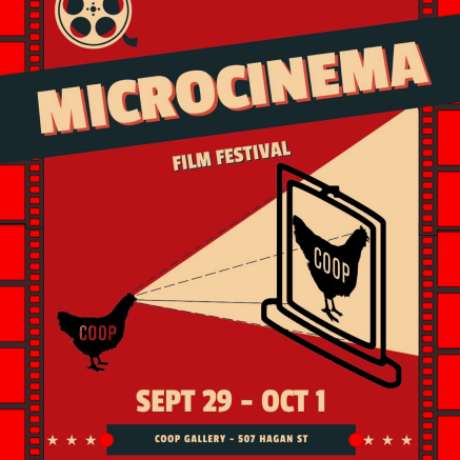 Exhibitions
MICROCINEMA: A SHORT FILM FESTIVAL
Jacklyn Brickman, Casey Carter, Dimitry Said Chamy, Chrimmons, Ellen Allbrey Everett, Max Andrew Fisk, Federica Foglia, Ian Joseph Greene, Cheryl Hazelton, Jonathan Onsuwan Johnson, Tariah Lane, Natalie Martinez-White, Joe Nolan, Heath Schultz, Harrison Shook, Ivette Spradin, Lenore Thomas, Hope Tucker, Cortney Warner, John Warren, Monique Wilhoit, Aram Winter, Tony S. Youngblood
COOP Gallery is pleased to present Microcinema: A Short Film Festival.
Microcinema is an experimental film and video festival. This year the screening will take place outdoors at COOP Gallery in Nashville, TN over two nights, during the premiere of Artville.
Microcinema will feature work by independent film/video artists from the Southeast and beyond.The goal of our microcinematic event is to share a range of artistic expressions, cultural perspectives, and critical inquiries with Nashville's creative community.
The two-evening event will feature screenings of over twenty short films, along with filmmaker introductions of their films and filmmaker panels. Seven awards will be handed out, including the IBFF Choice Award. Two short films, one chosen by COOP and one chosen by the International Black FIlm Festival (IBFF), will be screened both at COOP's Microcinema and at the International Black Film Festival, which occur during the same weekend. Audience members will also have the chance to vote for one film to receive the Audience Festival Favorite award.
Schedule of IBFF exchange films:
Sept. 30: Screening of Jahleel and Star by Monique Wilhoit, presented by IBFF
Oct. 1: Screening of Far From the Wheel by Aram Winter, winner of COOP's IBFF Choice Award