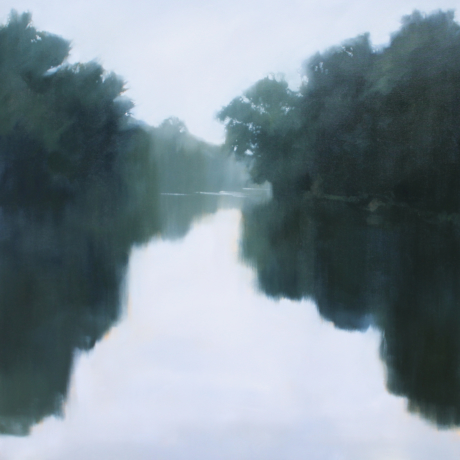 Exhibitions
MEGAN LIGHTELL: ​SAVING SPACE
Megan Lightell
In her third solo show at Zeitgeist since 2012, Megan Lightell brings a local focus to her work. Painting from visits to public and private properties protected by The Land Trust for Tennessee, as well as multiple public parks The Land Trust helped to make possible, Lightell presents a series of large-scale paintings and small studies that preserve the beauty and mystery of these sites with her distinctive style, distilling elements to their essence with abstracted brushstrokes. 10% of all work sold during this show will be donated to The Land Trust for Tennessee, a nonprofit organization working to conserve land across the state.

"When I encountered the work of The Land Trust for Tennessee years ago, I felt an instant appreciation for their mission to protect natural landscapes for both public and private use, and I approached them recently about making this series of paintings based upon sites that they have helped to protect. Some sites are owned privately by landowners who have chosen to consider land not in terms of profits or future building sites, but for other kinds of value: family history, habitat for vulnerable animals and insects, holding space for grazing animals to feed a community, sometimes opening these spaces to the public for retreat and celebration.

I also found a new personal connection to the green spaces throughout the city and began to frequent places that are open to the public as Metro Parks and greenways, some of which were made possible with assistance from The Land Trust for Tennessee. This year I have painted during a gentle snowfall in Beaman Park, discovered the riverbend just below Stone Hall Park, and watched many sunrises and sunsets at Cornelia Fort Airpark. Spending time in these parks and protected spaces has allowed me to reclaim some sense of belonging to the wider world, to feel anchored in the seasons and the rhythms of natural forces. As I paint, I see the land not as a monetary commodity, or as a blank square on a map, but as a ground with spirit, a home for other living things, a place that was here before we were and will be here long after we are gone."

Join us for the opening reception November 4, 6-8pm and for a Q&A with the artist on Saturday, November 11 at 1pm.
---
image: Megan Lightell, Stones River From Stone Hall, 2017, oil on canvas, 48 x 48 inches.